The SUV market is getting more crowded and competitive every year, with new models and technologies vying for customers' attention. But if you're looking for something that stands out from the pack, with a distinctive design, a comfortable ride, and a low environmental impact, you might want to look at the new Citroen C5 Aircross Hybrid. It's the first model from Citroen to feature a new 48V hybrid technology that offers low emissions, high performance, and smooth driving.
The Citroen C5 Aircross Hybrid is a compact SUV that combines a 1.6-liter turbocharged four-cylinder engine with an electric motor and a 13.2 kWh lithium-ion battery pack. The engine delivers 180 horsepower and 250 Nm of torque, while the electric motor adds 110 horsepower and 320 Nm of torque. The electric motor is integrated into the eight-speed automatic transmission, which provides seamless gear changes and optimal efficiency.
The hybrid system can operate in three modes: Electric, Hybrid, and Sport. In Electric mode, the C5 Aircross Hybrid can run on battery power alone for up to 55 km (34 miles) at speeds of up to 135 km/h (84 mph), making it ideal for urban driving and short trips. It can also reduce fuel consumption and CO2 emissions by up to 40% compared to a conventional petrol engine.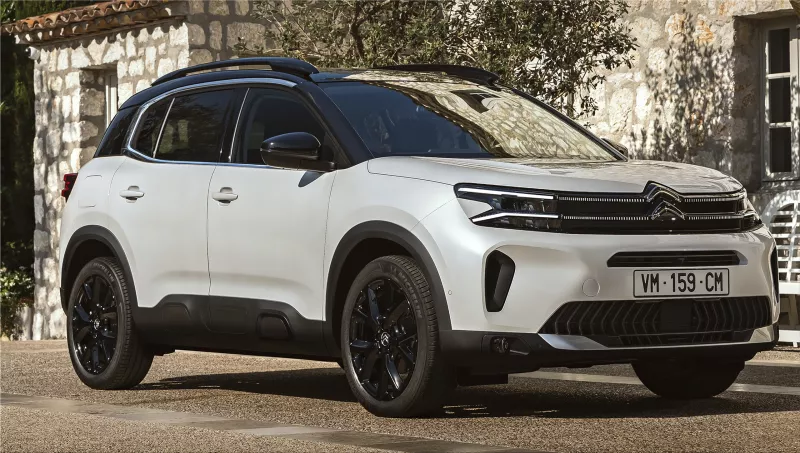 In Hybrid mode, the system automatically switches between the engine and the electric motor to optimize fuel efficiency and emissions, achieving a combined fuel consumption of 1.4 L/100 km (168 mpg) and a CO2 emission of 32 g/km. The hybrid mode also adapts to the driving conditions and the driver's preferences, using artificial intelligence to learn from their habits and anticipate their needs.
In Sport mode, the system combines the power of both the engine and the electric motor to provide a more dynamic and responsive driving experience, with a total output of 225 horsepower and 360 Nm of torque. The Sport mode also enhances the steering, suspension, and throttle response, making the C5 Aircross Hybrid more agile and fun to drive.
The Citroen C5 Aircross Hybrid also features a regenerative braking system that recovers energy during deceleration and braking, helping to recharge the battery and extend the electric range. The battery can also be recharged using an external source, such as a wallbox or a public charging station. A full charge takes less than two hours using a 7.4 kW wallbox or less than four hours using a standard 3.7 kW socket.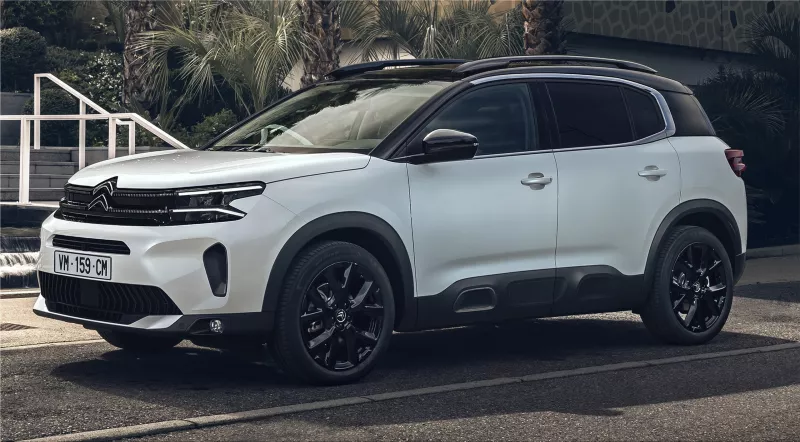 The Citroen C5 Aircross Hybrid is not only efficient but also comfortable and spacious. It offers a roomy interior with five individual seats that can be adjusted, folded, or removed to create more cargo space. The trunk has a capacity of 460 liters (16.2 cubic feet), which can be expanded to 600 liters (21.2 cubic feet) by sliding the rear seats forward or up to 1,510 liters (53.3 cubic feet) by folding them flat.
The Citroen C5 Aircross Hybrid also boasts Citroen's signature Progressive Hydraulic Cushions suspension system, which uses hydraulic stops to absorb shocks and vibrations from the road, providing a smooth and comfortable ride. The suspension system also adapts to the driving mode, offering more firmness in Sport mode and more softness in Electric mode.
The Citroen C5 Aircross Hybrid has various advanced technologies and features to enhance safety, convenience, and connectivity. It has a 12.3-inch digital instrument cluster that displays speed, battery level, electric range, hybrid mode, and navigation information. It also has an 8-inch touchscreen infotainment system that supports Apple CarPlay and Android Auto and wireless smartphone charging.
The C5 Aircross Hybrid also offers a host of driver assistance systems, such as adaptive cruise control with stop & go function, lane keeping assist with road edge detection, blind spot monitoring with rear cross-traffic alert, park assist with 360-degree camera view, emergency braking with collision risk alert, driver attention alert with lane departure warning, traffic sign recognition with speed recommendation, active safety brake with pedestrian detection.
The Citroen C5 Aircross Hybrid is part of Citroen's commitment to offering more electrified models in its lineup. As Vincent Cobee, Citroen CEO, said: "With this new model, we are offering our customers an attractive alternative in terms of mobility: an efficient vehicle with reduced fuel consumption and CO2 emissions." He added: "The C5 Aircross Hybrid is an important step in our electrification strategy: by 2025, we will have 100% of our range electrified."
So if you're looking for a compact SUV that offers style, comfort, and efficiency, look no further than the Citroen C5 Aircross Hybrid. It's a great way to enjoy hybrid technology's benefits without compromising performance or space.