The Cupra Tavascan is not just another electric SUV. It's a statement of intent from a brand that wants to redefine performance and design in the EV era. And it's a dream come true for anyone who loves driving fast, looking good, and saving the planet.
I saw the Cupra Tavascan in person at the Copenhagen Motor Show, where it made its European debut. And let me tell you, and it's a stunning piece of machinery. The sleek lines, the muscular stance, and the futuristic details combine to create a vehicle that looks like nothing else on the road.
But the Cupra Tavascan is not just a pretty face. It's also a beast under the hood, under the floor. The electric SUV packs two electric motors, one on each axle, that deliver a combined output of 306 horsepower and 700 Nm of torque. That's enough to propel it from 0 to 100 km/h in just 6.5 seconds and reach a top speed of 210 km/h.
The Cupra Tavascan boasts a 77 kWh battery pack that provides a range of up to 450 km on a single charge, according to the WLTP cycle. And thanks to its fast-charging capability, it can replenish 80% of its energy in just 30 minutes at a 150 kW charger. It is build on the same MEB platform as the Skoda Enyaq.
But what really sets the Cupra Tavascan apart from other electric SUVs is its driving dynamics. The vehicle features an advanced chassis control system that adapts to different road conditions and driving modes. It also has a low center of gravity and a 50:50 weight distribution, enhancing its stability and agility.
The interior of the Cupra Tavascan is equally impressive. It's spacious, luxurious, and high-tech. The dashboard is dominated by a 13-inch touchscreen that controls most of the functions and settings. The instrument cluster is replaced by a 12.3-inch digital display that shows all the relevant information for the driver. And the steering wheel has integrated buttons and touchpads that allow easy access to various features.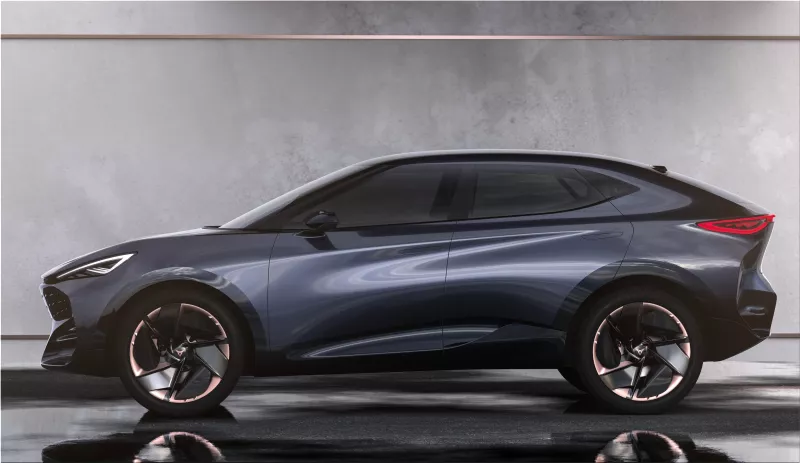 The Cupra Tavascan also offers plenty of comfort and convenience for the passengers. The seats are upholstered in leather and Alcantara, with copper stitching and embossed logos. The rear seats can be folded down to create more cargo space. And the panoramic roof lets in natural light and offers a great view of the sky.
The Cupra Tavascan is not just a concept car. It's a reality that will hit the market in 2024. And I can't wait to get behind the wheel and experience it for myself. It's a dream come true for EV lovers like me. @via Copenhagen.