The all-new Ford Ranger – the latest in a wave of global vehicles – makes its worldwide debut today at the Australian International Motor Show. The all-new Ranger has a powerful presence and promises to give pickup truck owners more can-do capability and a transformed truck ownership experience.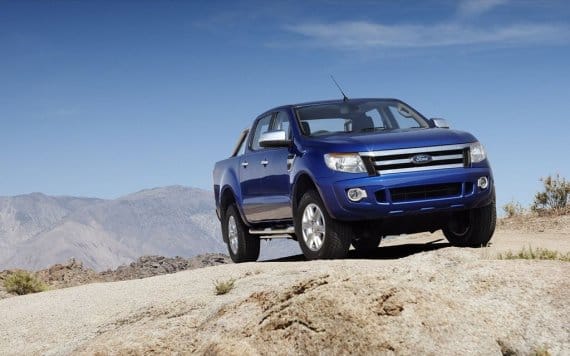 Ford Ranger
From impressive gains in power and safety to exceptional towing capability, the next-generation Ford Ranger emerges as a clear segment leader. It not only builds on the tremendous Ranger heritage of pickup truck capability, but it also gives truck owners a spacious, comfortable, feature-filled interior and sophisticated driving experience they would expect to find only in a car.
Ford Ranger
Amongst the most high-tech in its segment, Ranger is the impressive result of an all-new global compact pickup truck platform from Ford – the latest to emerge under the company's One Ford initiative – and Mazda. It replaces two previous-generation compact truck platforms currently in production to present a new face of Built Ford Tough to customers around the world.
Built on innovation, it boasts a list of technologies and features to lead the segment – including a new Rearview Camera System, Rear Park Assist, Trailer Sway Control and Adaptive Load Control. Ford plans to reveal even more new Ranger technologies in the coming months.
Destined for sale across five continents and more than 180 markets, Ranger will be offered as a complete family of compact trucks – with three different cab body styles, 4×2 and 4×4 drivetrains, two ride heights and up to five series choices, depending on the market.
"We know trucks so we leveraged our best expertise from around the globe to create the all-new Ford Ranger," said Derrick Kuzak, group vice president, Global Product Development. "Focusing our global resources on a single new compact pickup truck platform meant we could deliver significant improvements, technologies and features that owners will value, along with impressive fuel economy that alone will be a reason to buy."
The all-new Ranger reflects Ford's insight into compact pickup buyers around the world and their evolving wants.
"Compact pickups are hugely important to customers in many regions of the world," said Jim Farley, group vice president, Marketing, Sales and Service. "For many, it's the only vehicle in a household headed by a hard-working person others depend on. These people need a truck that can get the job done – and they'll be amazed how Ranger's smart new technologies make the job easier. And increasingly, they're also looking for the kinds of features, technologies, spaciousness and refinement you'd expect in a car, and Ranger is just as innovative here."
All-new model builds on strong heritage
For nearly 20 years,Ranger has been one of Ford's most popular pickups across the globe. It has provided millions of buyers with Ford Tough Truck capabilities – hauling heavy payloads, pulling trailers and absorbing punishment on the roughest roads. The all-new Ford Ranger now has even more capability but has been transformed into a taut, toned and muscular contemporary shape exuding strength and toughness.
With an all-new chassis frame, front and rear suspension and steering system, Ranger delivers more payload and outstanding towing capability. It is powered by a choice of three new, fuel-efficient powertrains, including two state-of-the-art common-rail Ford Duratorq TDCi diesels and new fuel-efficient six-speed transmissions. Add in more chassis and safety technologies, and the story of Ranger pickup truck leadership becomes as vivid as its powerful, purposeful stance.
Ranger has the flexibility to handle every chore at home or on the job.
Its transformation is perhaps most vivid in the all-new interior, which brings new levels of spaciousness to the compact pickup ownership experience. The all-new Ranger offers a comfortable and quiet ride, along with a level of features and technologies that make it second-to-none.
The flagship of the new range is the Ford Ranger XLT Double Cab model unveiled in Sydney in lustrous Aurora Blue, showcasing a gutsy fuel-efficient new 2.2-litre Ford Duratorq TDCi 110 kW (150 PS) diesel engine with an impressive 375 Nm of available torque.
"This new Ranger we're revealing to the world today is compelling evidence of what we can achieve by harnessing the power of One Ford," said Gary Boes, vehicle line director for Ford's new compact truck platform.
"The new Ranger responds to what pickup truck owners all around the world want in a vehicle and it was designed and engineered by a team with unrivalled truck expertise. It's being tested in the most demanding conditions in the most gruelling testing environments on five continents to prove its world-class credentials. Ranger respects truck owners and it will earn their respect day in and day out," Boes said.
'21st Century Tough' styling inside and out
The all-new Ford Ranger creates a bold and purposeful presence, with a fresh, contemporary exterior design that exudes the famous Built Ford Tough personality. Designers call the look '21st Century Tough'.
Ford Ranger
Taut, toned muscularity and a bold, confident stance instantly signal the strength and capability of an ultra-modern pickup truck. Yet it also communicates a transformed, more sophisticated and refined style that appeals to a new generation of truck owners.
"In many areas of the world, the role of Ranger has changed," said Craig Metros, chief designer. "It still has to be a work vehicle with a durable interior and the ability to carry a heavy payload, but it also serves a dual role with refinement, comfort and more consumer-friendly features topping the list for many buyers."
Metros said extensive research among truck customers around the world revealed surprising similarities in taste and design expectations.
While needs and expectations may differ in the 180 markets where it will be sold, the new Ranger Tough Truck design resonates around the world.
"Good design is long lasting and transcends all markets," said Metros. "Cute gimmicks don't cut it with this group. It's a robust truck that gets the job done, first and foremost."
According to Metros, Ranger looks very tough but not in the more chiselled style of Ford's larger North American F-Series trucks. The contemporary design will be just as at home on city streets outside trendy restaurants in Cologne or Melbourne as it is in the Outback or on a luxury property development site.
Reflecting the diverse uses of compact pickups around the world, the all-new Ford Ranger product range will offer everything from basic work trucks with hose-out interiors to high-series models, such as the Ranger Limited and Ranger Wildtrak, both yet to be revealed.
The best of Ford's design language also have been applied to the interior. Borrowing cues from ergonomically-designed power tools like DEWALT®1, and encasing instruments in a protective shell like a G-Shock®2 watch, designers were inspired to blend form and function while ensuring the instruments are clearly visible for the driver.
Inside, trim panels are designed to be easily substituted. A single basic instrument panel is assembled off-line and simply installed in the vehicle. While the trim styles vary, all parts are designed to be interchangeable.
"Look closely and you'll see that regardless of the model, we didn't stray from the basic layout and design," Metros explained. "All the exterior and interior shapes and panels are identical."
Small details received careful attention to ensure quality and craftsmanship in every model. From graining on interior panels to tonal colour choices, the execution exudes a premium feel throughout the interior.
Ford Ranger
On the instrument panel, designs were used that would easily accept modular parts – such as radios, and heating and ventilation controls – to ensure build quality was maintained to eliminate any unsightly gaps.
According to Debbie Pascoe, Ford's colour and trim design manager, the materials used throughout the cabin have to be especially durable. Seats have to be comfortable but also able to withstand commercial customer usage.
"The typical pickup driver needs space and we designed an interior that is comfortable, easy to slide in and out of, with controls that are larger to accommodate work gloves, for example. When you design a truck interior, special considerations have to be taken to ensure the cabin will be just as durable as the rest of the vehicle. But tough doesn't have to mean rough," she said.
Interior materials are subjected to constant abuse and have to withstand punishing rigours not seen in a passenger car. Seating materials must be able to take a beating from tools that are flung into the cabin or forgotten in a back pocket. Door panels can't be easily scuffed or scratched by dirty boots. And truck customers increasingly want an interior that's stylish and comfortable for personal use.
"We haven't forgotten that many of these vehicles are not only used for work but are also primary transportation in many areas of the world as the family vehicle," Pascoe said.
Three passengers can easily fit into the second row of the new Ranger Double Cab. It offers ample knee clearance and better foot clearance between the B-pillar and the seat. That means getting in and out of the new Ranger has never been easier for rear-seat passengers.
Ample storage is provided throughout the interior cabin with up to 20 storage locations. Double Cab pockets in all four doors can easily fit water bottles and, on selected models, a deep centre console keeps beverages cool. The glove box is large enough to accommodate a laptop computer. Storage for mobile phones and other small items can be found in the console.
Underneath the rear seats, a convenient hidden storage area for electronic items and small packages is provided, while on selected Ranger Double Cab models, an armrest in the centre rear seatback fold includes two cup holders.
To help reduce Ranger's ownership costs, especially at the fuel pump, a wide range of design features were optimised to improve fuel efficiency. Using the same leading-edge simulation technology as Formula One teams, aerodynamicists performed more than 1000 full-vehicle aerodynamic simulations to perfect the shape of the vehicle.
Using this technology, engineers demonstrated that with a hard line at the fender top, wind flow was divided and resistance lowered. The backlight was positioned more vertically, A-pillars optimised and a small spoiler was added to the top of the tailgate. A front airdam plays a significant role in controlling the airflow underneath the vehicle, leading to a significant reduction in the drag coefficient.
"Decreasing wind resistance was a start. Small incremental gains in fuel efficiency quickly add up and help meet fuel economy targets," Metros said.
More muscle under the bonnet – three new engines
With a body that is lean and taut, the muscle lies beneath the bonnet. The all-new Ranger powertrains have been engineered to give customers an uncompromised combination of power and torque.
Ranger introduces three new engines to Ford's compact pickup truck range globally:
* A new 2.2-litre Ford Duratorq TDCi I4 diesel engine with peak torque output of 375 Nm and power output of 110 kW (150 PS).
* A highly responsive and efficient new 3.2-litre Ford Duratorq TDCi I5 diesel engine with a powerful 470 Nm of torque and power rated at 147 kW (200 PS).
* A 2.5-litre Ford Duratec I4 petrol engine with more power at 122 kW (166 PS). It can be configured for E100 flexible fuel capability or aftermarket upfitted to run on CNG or LPG.
"This all-new engine family demonstrates our commitment to making Ranger the best option for today's pickup truck customer," said John Tatge, Ranger chief programme engineer. "We're bringing the best engine technology from the Ford powertrain range to make Ranger the clear choice for capability and fuel economy, particularly with our world-class Duratorq diesels. Their torque makes Ranger the truck to own."
Developed in Australia and tested and validated around the world, Ranger powerplants are designed to run on a variety of locally blended fuels with different octane ratings.
Selected Ranger powertrains benefit from the advantages of lower engine rpm and reduced wear and tear, with six-speed automatic and manual transmissions available across selected models. Increased fuel economy, coupled with other advances to facilitate maintenance and serviceability, help reduce annual ownership cost.
"The all-new Ford Ranger is a driver's pickup truck," said Rob Sharples, powertrain programme team leader. "It's inviting to drive, and all of its driver inputs and vehicle controls work together in harmony."
Transmissions and final drive ratios have been carefully matched to deliver exceptional acceleration, excellent fuel efficiency and a quiet ride.
The new Ford 6R80 six-speed automatic transmission has been extensively tuned to deliver smooth, quick shifts almost imperceptibly to the driver, reinforcing the car-like refinement of the new Ranger. In Normal mode, the calibration focuses on comfort and fuel economy. For sportier driving, a quick flick of the shifter changes the transmission into Sport mode. This provides later shift points and the driver can manually select gears through a forward (downshift) or rearward (upshift) movement.
It also features another smart Ford technology – Grade Control Logic. It automatically downshifts on a downhill grade when sufficient brake pressure is sensed, adding to the all-new Ranger's towing and hauling capabilities.
The 6R80 automatic transmission has been designed for both 4×2 and 4×4 versions. It is lightweight and includes strengthened internals that have been designed and tested to Ford's global commercial vehicle standards.
Ranger can also be fitted with Ford MT82 six-speed manual transmission with its short, car-like shifter – well-positioned ergonomically for the driver – that provides crisp, precise shifting matched perfectly to the generous torque output of the new diesels. An upshift indicator in the instrument panel helps coach drivers on the best gearing for fuel economy.
The 2.5-litre petrol engine is offered standard with the proven Ford MT75 five-speed manual transmission.
The all-new Ranger four-wheel drive models are equipped with a well-proven electronically controlled transfer case that allow drivers to shift from 4×2 to 4×4 anytime via an electronic switch conveniently located on the console. If extra torque or additional downhill braking is needed, low-range gearing also can be enabled.
Select four-wheel-drive Rangers also can be equipped with either an electric locking differential or a limited slip differential in a wide array of final drive ratios.
While fuel economy certification will take place closer to the start of production, Ford is forecasting that the new Ranger powertrain range will contribute to significant savings at the pump.
New levels of ride quality and chassis control
The same level of detail that makes Ranger stand out in a crowd will set it apart from the competition with an entirely new chassis that provides even more capability along with car-like comfort, reduced steering effort, more precise handling and better on-road stability.
Off-road performance has been improved with a stiffer frame, ground clearance of up to 232 millimetres and driveline components that have been strategically mounted above the frame rail and out of harm's way.
Despite an increased 3220-millimetre wheelbase – and wider track for the 4×4 model of 1560 millimetres and 4×2 model of 1590 millimetres at the front and rear – the all-new Ranger's turning circle makes it easily manoeuvrable in parking and on narrow city streets. Its rack-and-pinion steering system has been thoroughly designed to provide robust performance while delivering more precise steering.
Up front, the entire suspension is brand new. A new coil-over-strut suspension allows for better tuning of the upper and lower wishbone design. The suspension set-up, while similar for two- and four-wheel drive models, has unique capabilities and has been tuned with specific damper valving and spring rates on all models to compensate for weight, centre of gravity, engine torque and drive distribution.
At the rear, an entirely new suspension system provides a smooth, firm comfortable ride with a rear leaf suspension design that has been carefully tuned for a variety of road conditions while still delivering outstanding payload capacity.
The rear suspension also provides Ranger with a firmly planted ride for high-speed driving on dirt roads, common in South America, with reduced sway and less vehicle 'skate' on corrugated or rough surfaces.
Considering customers in areas of the world where monsoons cause frequent flooding, Ranger's key electrical components and air inlets are strategically placed high in the engine compartment. This contributes to impressive water-wading capability.
Offering the biggest brakes in class, stopping power for Ranger is excellent.
All Ranger models are equipped with larger front rotors measuring 302-by-32 millimetres and twin-piston callipers. The brake calliper features a pair of phenolic pistons which reduce weight and improve thermal performance.
Two-wheel-drive vehicles use a 270-by-55-millimetre rear drum, whilst the Hi-Rider and 4×4 vehicles use a 295-by-55-millimetre rear drum.
The brake system has been subjected to extreme environmental conditions and customer driving requirements – at minus 30 degrees Celsius in Sweden, in the intense heat in California's Death Valley, the congestion of city traffic, the German Autobahn and the unforgiving roads of the Australian Outback.
The largest brake system in segment provides excellent fade resistance, particularly with maximum payload. While competitive systems start to fade and stopping distances increase, the Ranger is engineered to keep performing.
For superior braking performance, Ranger is available with Ford's Electronic Stability Program (ESP) system that includes four-wheel traction control, yaw control and roll-over mitigation.
Invisible to the driver, the ESP system includes sensors located at all four wheels that independently monitor wheel speed and detect wheel slip during acceleration or braking. If a slip is detected or the vehicle is swerving (yaw), brakes are individually applied to ensure the vehicle stays on its intended path.
Under extreme conditions, the Traction Control System reduces engine torque by managing spark and fuel delivery.
The top level brake system includes Emergency Brake Assist to provide maximum boost for the Anti-Lock Brake System (ABS) and is automatically triggered during panic stop situations. Electronic Brakeforce Distribution accurately maintains brake pressure in rear brake lines to help provide decreased stopping distances. Flashing hazard lights automatically alert following vehicles when an ABS stop is triggered.
Among segment leaders with an exceptional towing capacity, sure-footed grip and stability is ensured with the available Trailer Sway Mitigation and Adaptive Load Control.
If a trailer begins to sway, brakes are selectively applied to slow down the truck-and-trailer combination. To ensure that Ranger maintains a stable ride when carrying full loads of cargo, Adaptive Load Control determines the payload and applies the necessary measures to maintain a straight and level ride.
Like all contemporary Ford products, the all-new Ranger is engineered to provide comprehensive safety protection, starting with a highly protective body structure utilising high-strength steel throughout to protect occupants in the event of a collision.
Engineers used sophisticated computer modelling to hone the crashworthiness of the all-new Ranger. This included more than 9000 full-vehicle crash simulations before the first prototype vehicle was subjected to a physical crash test.
Ford Ranger
The all-new Ford Ranger offers new passive safety technologies, including the availability of side curtain airbags on all cab styles for the first time.
Other new Ranger technologies – including Rear Park Assist and new Rearview Camera system – not only aid pickup drivers in everyday use, but also help them avoid potential contact with pedestrians.
Payload capabilities
Carrying a crew of five? Headed to the job site with large appliances, building supplies, sand or gravel? Loaded with produce for sale at the local farmer's market? Whatever the payload, all are easily stored within the cargo box of the new Ford Ranger double cab – even with a full passenger load.
Measuring 1549 millimetres long, 511 millimetres high and with a maximum cargo width of 1560 millimetres, the cargo box of the double cab is more than 100 millimetres wider. Volume is an impressive 1.21 cubic metres.
Width between the wheel arches is 1139 millimetres on all models and special provisions are provided in the cargo box to place struts of lumber in pockets that are located above the wheel arch. This allows plywood or sheet rock to be stacked flat. Width at the rear tailgate opening at the top of the box is 1330 millimetres.
New from the ground up – more to come
It's not often that engineers and designers have the opportunity to build a new pickup truck from the ground up, and the all-new Ranger is evidence of how Ford seized that opportunity.
When Ranger begins production in less than a year, it will set new benchmarks in many categories including a stand-out design, road manners that are smooth and refined, a chassis that is off-road capable and powertrains that are fuel efficient, clean and live up to the global Built Ford Tough promise.
The new Ranger will be manufactured around the world in three volume production sites geared for regional reach, especially in growth regions.
A progressive production ramp-up is slated to begin next summer (Northern Hemisphere) in Rayong, Thailand, for the Asia Pacific region. Ford is transforming plants in Argentina and South Africa for additional capacity to eventually serve other key regions as the launch cadence progresses. The new manufacturing strategy for the single global compact truck platform will drive new levels of product commonality for the Ford Ranger all around the globe.
Although not planned for introduction in the United States or Canada, the all-new Ranger will eventually be marketed in 180 countries, making it one of Ford's farthest reaching products. This reflects the importance of compact pickup trucks to consumers in many parts of the world and the significance of the Ranger in Ford's global product portfolio.
Ranger also symbolises how Ford is leveraging its global product resources more efficiently. Its product development team was headquartered in Melbourne, Australia. The full-range product development facilities at Ford's Melbourne-based Broadmeadows Complex and nearby proving ground facilities in Geelong became an ideal base for the global Ranger team.
"One Ford brought all of our strengths together to create the all-new Ranger," Kuzak said. "When you look at how important compact trucks are around the world, it was the ideal candidate to be our next global product." [Source: Ford]