LAMPO2 is an even more energy efficient successor to the LAMPO demonstration vehicle presented in 2009. Weight, aerodynamics and the efficiency of individual components of the BRUSA drive train have been further optimized in order to reach a world-class energy consumption of less than 100Wh/km-ton under real conditions.
LAMPO2 is equipped with 4 different charging modes:
standard single-phase with up to 3,3kW on board charger for typical overnight home-charge,
"control-pilot" equipped and (EDF provided) PLC single-phase with 6,6kW on board charger typical for public charging,
standard three-phase 9,9kW on board charger typical for charging at industrial plugs (fleet-owners) and
an interface for DC fast charging (able to transmit a max. power of 80kW), where up to 100km of additional range can be charged within just 10 minutes, by an off-board system,
so that the different solutions can be compared in terms of usability and efficiency by being demonstrated in real conditions.
LAMPO2 will be shown together with different charging infrastructure solutions: a smart home charge device (developed with ALPIQ), the public charging station E-TOTEM and the quick-charging station (developed with ABB and Brusa).
LAMPO2 impressively demonstrates that electric drive-trains are mature and perform sufficiently well to be a solution for all types of vehicles, not just city cars. This includes premium cars, the segment through which most new technologies have successfully been introduced into the market.
Together with the first LAMPO (which has already been driven over 10'000 km on race tracks and public roads across Europe), LAMPO2 will be used for practical demonstrations and testing. Protoscar has repeatedly been encouraged to develop an advanced electric cabriolet for small-scale production and plans to use the LAMPO2 to evaluate this possibility. The evaluation will include discussions with potential industrial and financial partners, and an assessment of the preferences and desires of potential clients.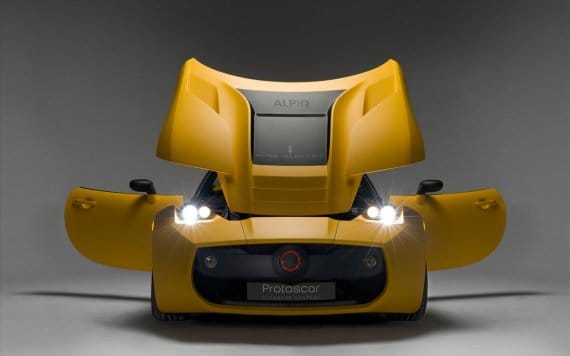 In addition to BRUSA, which supplies the components of the whole drive train, the main partners and sponsors of the LAMPO2 project are ALPIQ (the leading Swiss company in power generation and distribution, which is actively promoting the goal of 15% of electric vehicles in Switzerland by 2020), the German Fraunhofer Institute IAO (EV-specific features and MMI, as well as optimization of the ergonomics), ABB (DC fast-charging technology) and the Swiss Federal Office of Energy.
Technical details
LAMPO2 has two electric motors (allowing it to operate as a four-wheel drive with variable torque between front and rear axle for optimal handling, safety and efficiency) with a total output of 300 kW (equivalent to 408 HP), 640 Nm (over 50% more than its predecessor!) and over 30 kWh of Lithium-Ion battery capacity. LAMPO2 features real sports-car performances: 5 seconds to accelerate from 0 to 100 km/h, 200 km/h of max. speed and a range of over 200 km. More than enough energy for driving is produced by a remote solar plant which is installed on the roof of a farm in Tuscany, allowing a real zero-emission drive on a "Well-to-Wheel" basis.