Jeep is a legendary American car brand producing SUVs and trucks for over 80 years. Jeep is known for its rugged and capable vehicles that can tackle any terrain and challenge. Jeep also has a tradition of creating innovative and exciting concepts for the annual Easter Jeep Safari. This week-long event attracts thousands of off-road enthusiasts to Moab, Utah. One of the latest concepts from Jeep is the Jeep Gladiator Sideburn concept, a striking pickup that explores new tools designed for the burgeoning interest in off-road adventure.
The Jeep Gladiator Sideburn concept is based on the Jeep Gladiator, a mid-size pickup truck that debuted in 2019. The Gladiator is the first Jeep pickup since the Comanche was discontinued in 1992, and it shares many components and features with the Jeep Wrangler (JL). The Gladiator offers a spacious cabin, a versatile bed, and a four-wheel drive system with multiple modes and lockers. The Gladiator also features a removable roof, doors, and a fold-down windshield for an open-air driving experience.
The Jeep Gladiator Sideburn concept takes the Gladiator to the next level with many modifications and enhancements. The most noticeable feature is the Solar Flash Yellow paint that covers the entire body and contrasts with the black accents. The Jeep Gladiator Sideburn concept also features a JPP 2-inch lift kit with BILSTEIN performance shock absorbers that use remote reservoirs to provide a more significant cooling capability for increased suspension travel and improved off-road capability. The BILSTEIN shocks also have two settings: Mild, with 285 horsepower and 273 pound-feet of torque, and Maximum, which boosts power to 650 horses and torque to 900 pound-feet.
The Jeep Gladiator Sideburn concept rides on black HRE 17-by-9-inch FT1 six-spoke wheels wrapped in 37-by-13-inch BF Goodrich tires. Protecting the front grille borrowed from the 2023 Jeep Wrangler Rubicon 20th Anniversary edition is a custom-designed tubular grille guard that folds down to create an innovative bumper bench, a perfect relaxation perch for two while out on the trails. Below the grille guard is a modified Rubicon bumper with a Warn winch.
The Jeep Gladiator Sideburn concept also features a pair of removable 11-inch TYRI rectangular LED lights on each roof panel, suspended by custom bracketry in the concept-light fairing. The light fairing is attached to each roof panel and features a quick disconnect. The LED lights provide extra illumination for night-time adventures. The Jeep Gladiator Sideburn concept also has a concept JPP Gladiator Sport Bar, made from lightweight carbon fiber and steel, that enhances the space between the cabin and the bed with a design that features bed steps on both sides for easy access. The sports bar also features a mid-shelf with tie-downs for portable storage totes that can be locked and secured via eight available tie-down loops. Four T-track rails on the upper shelf allow for additional storage options.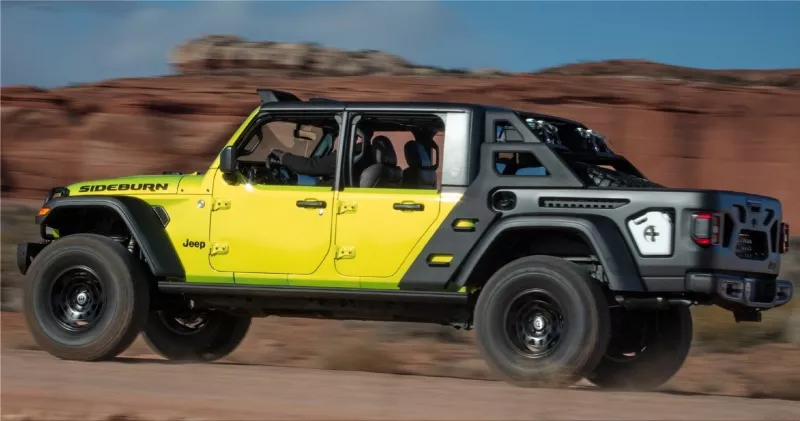 The Jeep Gladiator Sideburn concept is powered by a 3.6-liter Pentastar V-6 engine that delivers reliable performance and efficiency. The engine is paired with an eight-speed automatic transmission that offers smooth shifting and optimal gear ratios. The Jeep Gladiator Sideburn concept also comes with all the standard safety and convenience features of the Gladiator, such as airbags, ABS, ESP, Hill Start Assist, air conditioning, MP3 radio with Bluetooth, electric front windows, a two-way adjustable steering wheel and central locking with remote control. The Jeep Gladiator Sideburn concept is a comfortable, well-equipped pickup with a premium feel.
The Jeep Gladiator Sideburn concept is one of the concepts that Jeep created for the 2023 Easter Jeep Safari. The concept showcases Jeep's creativity and innovation in designing vehicles that cater to the needs and desires of off-road enthusiasts. The Jeep Gladiator Sideburn concept is a stunning pickup that offers style, technology, and performance at an unbeatable price.