If you want a small car that combines style, technology, and practicality at an affordable price, consider checking out the new 2024 Kia Picanto. The Kia Picanto is one of the most popular and best-selling small cars in the world, especially in Europe and Asia, where it competes with other models such as the Toyota Aygo X, Volkswagen Up, Suzuki Ignis, Fiat Panda, Hyundai i20, Fiat 500, and MINI Hatch. The Kia Picanto has been around since 2004, and it has been refreshed for 2024 with a new design, improved technology, and enhanced safety features.
The new Kia Picanto features a bold, futuristic look inspired by Kia's Opposites United design philosophy. This philosophy aims to create a harmonious balance between contrasting elements, such as sharpness and smoothness, complexity and simplicity, and modernity and heritage. The result is a car that stands out from the crowd with its distinctive personality and character.
The front end of the new Kia Picanto showcases a new version of the signature 'tiger nose' grille, which is wider and more prominent than before. The grille is flanked by vertical LED headlights that extend into the air intake, creating a dynamic and aggressive expression. The rear end features a full-width light bar that connects the redesigned tail lights, giving the car a unique night-time appearance. The rear bumper also has a new shape, with vertical reflectors and reversing lamps. The new Kia Picanto also comes with a choice of nine paint colors and various wheel sizes, ranging from 14 to 16 inches.
The sporty GT-Line trim adds extra flair to the new Kia Picanto, with an expanded grille, a rear diffuser, and 16-inch diamond-cut alloy wheels. The GT-Line also has artificial-leather seats, a flat-bottomed steering wheel, and heated front seats and steering wheel.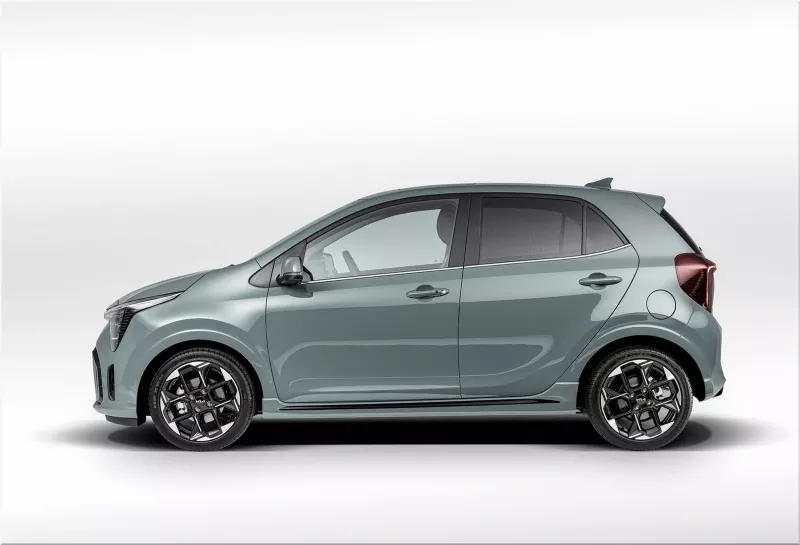 The interior of the new Kia Picanto has been updated with more technology and convenience features. All models come with an 8.8-inch touchscreen infotainment system that supports Android Auto and Apple CarPlay, allowing you to access your favorite apps and functions on the screen. The infotainment system also includes navigation and is compatible with the Kia Connect app. It allows you to lock and unlock the car's doors, monitor its location, and receive over-the-air updates using your phone. All models also have a 4.2-inch digital driver's display showing important information such as speed, fuel level, and driving mode.
The 2024 Kia Picanto offers two engine options: a three-cylinder 1.0-liter and a four-cylinder 1.2-liter, both naturally aspirated and running on unleaded petrol. Both engines can be paired with either a five-speed manual gearbox or a five-speed automatic gearbox. Kia claims that the engines have been tweaked to be more efficient and eco-friendly than before but has not released any official performance or fuel economy figures yet.
The new Kia Picanto also boasts improved safety features, such as a collision avoidance system that can prevent accidents at junctions by detecting cross-traffic and pedestrians, a driver attention monitor that alerts you if you are losing focus or getting tired, a blind spot monitor that warns you if there is a vehicle in your blind spot and a system that warns passengers if they are about to step out into the path of another vehicle.
The new Kia Picanto is expected to go on sale in early 2024, with prices starting from around $19,500 for the base model and $23,000 for the GT-Line model. The new Kia Picanto is a great choice for anyone looking for a small car that offers style, technology, and practicality at an affordable price. With its refreshed design, advanced features, and enhanced safety, the new Picanto is sure to appeal to a wide range of customers who value freedom and mobility in their daily lives.