The new Volkswagen Golf Estate launches at prices starting at € 18,500. The Volkswagen Golf Estate is one of the most prosperous models on the market, especially in the company car niche. The comprehensive redesign of this Estate should guarantee its position as a business estate car and as the first car for parents as well.
The new Golf Estate is including as standard: ESP, six airbags, daytime running lights, roof railing, electric windows, upshift indicator, heated mirrors, 1/3 to 2/3 split-folding rear bench seat and seatback, central locking, climate control and 1,495 litres of cargo capacity for only € 18,500.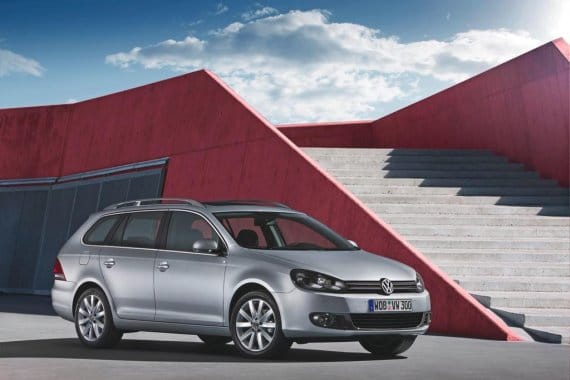 The Estate will be offered in the three equipment versions: Trendline, Comfortline and Highline. Engines available for selection are a TSI (boosted gasoline direct-injection engine) with 90 kW / 122 PS and two turbo-diesels (77 kW / 105 PS and 103 kW / 140 PS). More engine options will follow: two Multipoint engines (59 kW / 80 PS and 75 kW / 102 PS) and another TSI gasoline engine (118 kW / 160 PS). All six engines meet the harsh Euro-5 emissions standard.
The sixth-generation Golf Estate received excellent reviews, particularly for its high-end quality materials. The Estate features radio and navigation systems, MP3 players and Bluetooth mobile telephones, "ParkAssist" (automatic parking assistant), and "Rear Assist" (rear-view camera).