It was in 1810 that Jean-Pierre and Jean-Frédéric Peugeot turned their father's cereal mill into a steel foundry and took the Peugeot family into the industrial era. 
Now 200 years later, a new chapter in the Peugeot story is about to open with a further evolution of the brand; a new styling direction, a new corporate Lion badge and a new signature – Peugeot MOTION & EMOTION.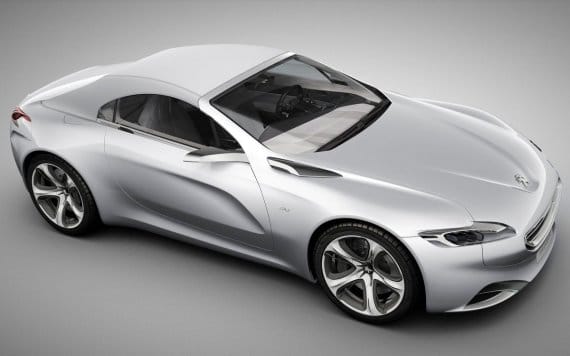 The look of individual products is the visual face of the brand in the eyes of its current and prospective customers. To enable Peugeot to evolve and adapt to future challenges, Peugeot's current styling direction will change into a new look, typified by the new Peugeot SR1 concept car. This dream car embodies a new stronger, more extreme and pure expression of the Peugeot Style of tomorrow and also displays a new look corporate Lion badge.
The SR1 concept car also blends styles in terms of its technical characteristics. For example, it incorporates HYbrid4 technology, which will be available in the Peugeot 3008 from 2011. On the SR1, at the front, a 1.6 litre THP petrol engine with a power output of 218 bhp is combined with a rear electric motor developing 95 bhp. In electric only mode, the car becomes a Zero Emission Vehicle (ZEV), with a combined cycle fuel consumption of 57.7 mpg or 119 g/km of CO2.
When the two power trains operate simultaneously, the SR1 develops a potential maximum power output of 313 bhp, while benefiting also from four-wheel drive.
With HYbrid4 technology, which will eventually be available on different models in the Peugeot range, the SR1 concept offers convincing proof that driving enjoyment can be combined with environmental friendliness.
The vehicle's dynamic efficiency is enhanced by a rigid, lightweight structure comprising of a one-piece body incorporating a tubular chassis, which are mounted the mechanical components and suspension.
Exploiting the best of existing technology to offer road holding worthy of this exceptional concept, the suspension consists of double wishbones with drop links at the front and the rear. For even greater driving precision, the SR1 also innovates through the adoption of four-wheel steering. Motorized links on the rear suspension wishbones control the turning angle of the rear wheels as a function of vehicle speed, giving the vehicle superb agility under all circumstances.
The Peugeot SR1 concept car will be unveiled to the general public at the 2010 Geneva Motor Show in March.
The Lion symbol, which has been associated with Peugeot products since 1858, is evolving too. Created by Peugeot's own designers, the Lion badge is a focal point on every vehicle. The new Lion is now simpler in design, more dynamic, with a new posture and fluidity. It has a new bi-metallic look through the use of both matt and polished finishes.
Three-dimensional in design for greater modernity it discards the current blue flag background for a stronger effect. The current Peugeot blue colour also becomes darker and is now combined into the new font used to create the Marque's name.
The first production vehicle to display this new Lion will be the stunning Peugeot RCZ launched in the Spring.
To reduce its ecological footprint and dependency on fossil fuels, Peugeot has been actively investing in a range of new technologies to meet the needs of future mobility, without sacrificing driving enjoyment.
Today, Peugeot continues improving engine efficiency through its downsizing strategy for petrol and HDi FAP diesel engines. Alongside this; the Marque is also currently developing a new three-cylinder petrol engine.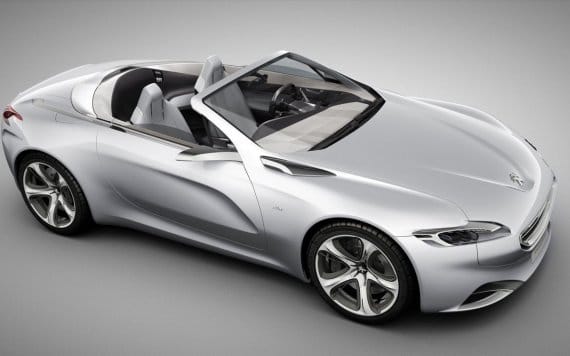 Tomorrow, the range of cars will consist of:
100% electric – The first product, called the i0n, which will initially be launched onto the European market at the end of 2010, is compact and very easy to drive and can easily accommodate four people in its spacious interior. Offering good levels of driveability in all circumstances, it is designed for the urban and suburban traffic of Europe's large cities.
Powered by Li-ion batteries that give it a top speed of 80 mph and a range of 80 miles when fully charged, they can be recharged fully in six hours via a standard household electrical socket or to 80% of their capacity in just 30 minutes, via a bespoke rapid recharging unit.
In terms of light commercial vehicles (LCVs), from the spring of 2010, a 100% electric Partner Origin van will also be available, with a load capacity of 3 m3.
Micro-Hybrid – Peugeot's e-HDi system will be widely introduced across the Marque's model range from the end of 2011. It will reduce both fuel consumption and CO2 emissions by up to 15%.
Full-Hybrid – In the spring of 2011, the 3008 HYbrid4 will combine environmental efficiency and versatility.
This innovative technology allows: 
a reduction in fuel consumption and CO2 emissions of 35% (74.3 mpg, 99g of CO2)
a "zero emission" mode when the vehicle is driven in electric-only mode, benefiting fuel economy and silent operation
a boost to performance, with a potential maximum power output of 200 bhp
As the electric power train is mounted at the rear of the vehicle it also provides a number of other benefits, such as the ability to provide all-wheel drive.
The Peugeot 3008 Hybrid4 will be the first diesel hybrid on the market and will be followed by other Peugeot hybrid models.
HYbrid4 Plug-in - In 2012, Peugeot will be introducing plug-in HYbrid4 technology for a further reduction in emissions levels: the target is less than 50g of CO2/km and 141 mpg.
This environmental strategy followed by the Marque also applies to its two-wheeled vehicles produced by Peugeot Scooters.
Peugeot is currently developing an electric bicycle in partnership with Ultra Motor. It is powered by an electric motor combined with a removable 36-volt Li-ion battery pack, offering a range of 44 miles.
The E-Vivacity, a 100% electric scooter with a power equivalent to that of a 50 cm3 petrol-engined scooter, is a new eco-friendly mode of transport that is reasonably priced and offers extremely low maintenance and running costs.
Its Li-ion battery pack can be fully recharged in 4 hours and recharged to 80% of its capacity in 2 hours, offering a range from 50 to 62 miles. 
Clean and quiet, with good acceleration from a standing start and a maximum speed of 28 mph, it blends seamlessly into urban traffic. The production model will be unveiled at the end of 2010 and will go on sale in 2011. With 15 years of experience in this technology, Peugeot is perfectly placed to maximise every opportunity.
On the strength of the technology already deployed in its cars and two-wheelers, Peugeot is rising to the environmental challenge of today and tomorrow. Peugeot is, however, going further with a comprehensive response to the mobility needs of the future.
Capitalising on its comprehensive range of cars, light commercial vehicles, scooters and cycles, Peugeot has created an original mobility service offer called, Mu by Peugeot.
This unique and innovative service allows everyone, whether or not they own a vehicle, and whether or not they are already a Peugeot customer, to access a range of mobility services, all by means of a pre-paid credit card which can be topped up online. The principle is simple: customers top up their cards by purchasing mobility units directly on the website. These mobility units can then be used in two different ways:
To rent products and accessories from the Peugeot range, such as  a private vehicle (207, 308 CC, 3008…) for a weekend away, a bicycle for a family outing, a scooter for getting around town, a commercial vehicle for moving house or an accessory for a special journey: GPS, roof rack, etc…
To purchase services from one of the programme partners. The card holder can book a plane or train ticket, a hotel room, or organise a personalised journey. Driving lessons, an introduction to eco-friendly driving or advanced driving lessons can also be booked.
The program has already been trialed successfully in several cities in France and among 20,000 group employees. In December 2009, 27 Parisian sites were introduced to the current program, including Peugeot dealers, Peugeot Scooter dealers, and Peugeot Avenue, the Marque's 'shop window' on the Champs Elysées. Roll-out in several other European cities is planned shortly: Berlin, Rome, London, Brussels and Madrid…
So far, 42% of Mu by Peugeot users use this service to experience Peugeot's range of private vehicles and with Mu by Peugeot, the Marque is forging new relationships with its customers. It is also a service that generates an additional point-of-sale traffic by attracting new customers and is, therefore, also a means of winning market share for the Marque.