If you're looking for an SUV to haul your family, your groceries, and your bottom, look no further than the Porsche Cayenne Turbo GT. This Porsche is the most powerful and fastest Cayenne ever made, and it's ready to take on any challenge you throw at it.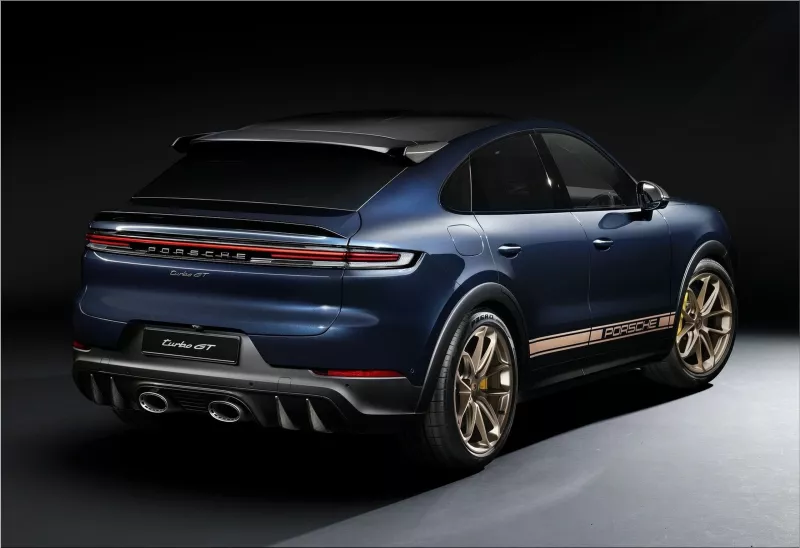 The Porsche Cayenne Turbo GT is not just a regular Cayenne with some extra badges and stickers. It's a completely reworked version of the already potent Cayenne Turbo Coupe, with a host of upgrades that make it a true performance machine.
The heart of the Porsche Cayenne Turbo GT is a 4.0-liter twin-turbo V8 engine that pumps out a whopping 631 hp and 626 pound-feet of torque. That's 90 hp and 59 lb-ft more than the Porsche Cayenne Coupe, and enough to propel the SUV from 0 to 60 mph in just 3.1 seconds and to a top speed of 186 mph.
But the Porsche Cayenne Turbo GT is not just about straight-line speed. It's also a master of curves, thanks to a revised chassis that lowers the ride height by 0.6 inches, stiffens the suspension by 15%, and adds more negative camber to the front wheels. The result is a sharper and more agile handling that can easily tackle any twisty road.
The Porsche Cayenne Turbo GT also features a new titanium exhaust system that reduces weight and improves sound, a new carbon fiber rear spoiler that increases downforce, and a new aerodynamic package that enhances cooling and stability.
The SUV rides on 22-inch GT Design wheels wrapped in specially developed Pirelli P Zero Corsa tires that offer exceptional grip and feedback. The brakes are also upgraded to carbon ceramic discs that can stop the SUV from 60 mph in just 108 feet.
The interior of the Porsche Cayenne Turbo GT is equally impressive, with sports seats upholstered in black leather and Alcantara with Neodyme accents and Turbo GT logos. 
The steering wheel is wrapped in Alcantara with yellow contrast stitching and features a yellow center marker. The center console, door panels, and dashboard are also adorned with carbon fiber trim. The infotainment system includes a 12.3-inch touchscreen with Apple CarPlay and Android Auto compatibility and a 14-speaker Bose surround sound system.
The Porsche Cayenne Turbo GT is not for the faint of heart or the light of the wallet. It starts at $182,150, which is $47,500 more than the Cayenne Turbo Coupe. But if you're looking for an SUV that can do it all, from hauling your family to setting lap records at the Nürburgring (where it clocked a time of 7:38.9 minutes), then this is the SUV for you.
The Porsche Cayenne Turbo GT is expected to arrive in U.S. dealerships in early 2024. If you want to get your hands on one, you better act fast because this SUV will likely sell out quickly.