Porsche has just unveiled its latest concept car, the Porsche Mission X, a stunning hypercar that combines extreme performance, cutting-edge technology, and futuristic design. The Porsche Mission X is not just a showpiece but a glimpse into Porsche's vision for the future of mobility. Could this be the ultimate Porsche? Let's find out.
What Is the Porsche Mission X?
The Porsche Mission X is a two-seater hypercar that aims to deliver unparalleled driving pleasure and emotion. It is powered by a hybrid system that consists of a 4.0-liter twin-turbo V8 engine and two electric motors, one on each axle. The combined output is a staggering 1,200 hp and 1,000 lb-ft of torque, making it one of the most powerful cars ever made.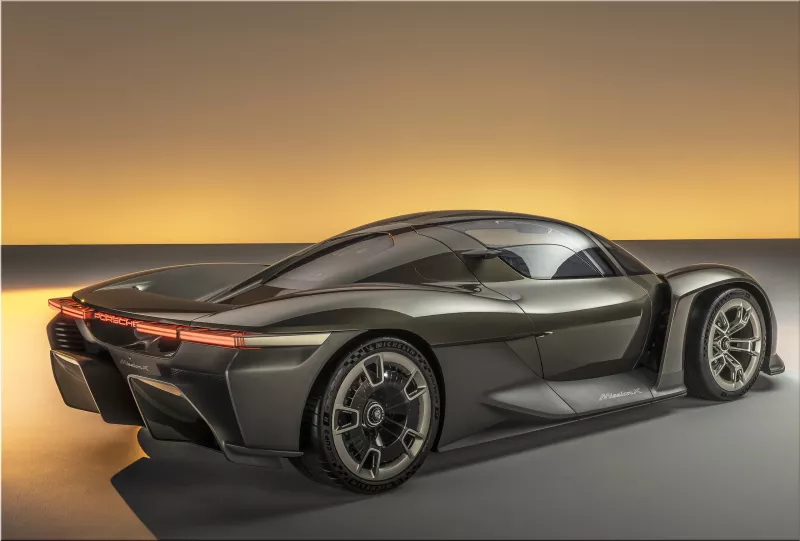 The Mission X can sprint from 0 to 60 mph in just 2.2 seconds and reach a top speed of over 250 mph. It can also run on electric power alone for up to 30 miles, thanks to a 20-kWh battery pack that can be recharged wirelessly or via a plug-in port.
The Porsche Mission X is not just about raw speed but also about agility and efficiency. It features a lightweight carbon-fiber monocoque chassis, active aerodynamics, adaptive suspension, torque vectoring, rear-wheel steering, regenerative braking, and a host of advanced driver assistance systems. It also has a variable all-wheel drive system that can switch between four modes: E-Drive (electric only), Hybrid (optimal balance), Sport (maximum performance), and Track (optimized for racing).
The Porsche Mission X also showcases Porsche's design language and innovation. It has a sleek and muscular body that draws inspiration from Porsche's racing heritage and iconic models like the Porsche 911 and the Porsche 918 Spyder. It has a low and wide stance, a long hood, a short rear overhang, a large rear spoiler, and distinctive LED headlights and taillights. It also has scissor doors, carbon-fiber wheels, and a glass roof that can change its opacity.
The interior of the Mission X is equally impressive and futuristic. It has a minimalist and driver-focused cockpit that blends digital and analog elements. It has a curved OLED display that spans across the dashboard, providing all the relevant information and controls. It also has a holographic head-up display that projects key data onto the windshield. The center console has a touchpad that can recognize gestures and handwriting inputs. The steering wheel has haptic feedback buttons that can adjust various settings.
The seats are made of carbon-fiber shells with leather upholstery and memory foam cushions. They are also heated, ventilated, massaged, and adjustable in multiple ways. The Mission X also has a state-of-the-art sound system with surround speakers integrated into the headrests.
The Porsche Mission X is not only designed for driving pleasure but also for connectivity and entertainment. It has a built-in Wi-Fi hotspot, wireless charging pads, USB ports, Bluetooth connectivity, Apple CarPlay and Android Auto compatibility, and an online navigation system with real-time traffic information. It also has a voice assistant that can understand natural language commands and queries.
The Porsche Mission X also has a special feature called Porsche Connect Plus, which allows the driver to access various online services and functions via a smartphone app or a smartwatch. For example, the driver can remotely check the status of the car, lock or unlock it, start or stop the engine, adjust the climate control, preheat or cool the cabin, monitor the battery level and charging process, plan a route, find a parking spot, or book a service appointment. The driver can also share the driving experience with other Porsche enthusiasts via live streaming, social media, or virtual reality.
How Much Does the Porsche Mission X Cost?
The Porsche Mission X is still a concept car, which means it is not yet available for sale. However, Porsche has hinted that it could become a reality in the near future as part of its strategy to electrify its entire lineup by 2030. The Mission X could also serve as a basis for a new generation of Porsche sports cars and supercars.
If the Mission X does go into production, it will likely be a very exclusive and expensive model, with a limited number of units and a high price tag. Based on the specifications and features of the concept car, we estimate that the Mission X could cost around $2 million, making it one of the most expensive cars in the world.
Is the Porsche Mission X Worth It?
The Porsche Mission X is a stunning hypercar that could change everything in the automotive industry. It combines extreme performance, cutting-edge technology, and futuristic design in a way that no other car has done before. It is a dream car for any Porsche fan or car enthusiast.
However, Mission X is also a very ambitious and challenging project that faces many technical and practical hurdles. It is not clear if Porsche can deliver on its promises and make the Mission X a reality. It is also unclear if there is enough demand and market for such a car, especially when environmental and social issues are becoming more important.
The Porsche Mission X is not a car for everyone, but for those who can afford it and appreciate it, it could be the ultimate Porsche. It could be the hypercar that could change everything.