Subaru Viziv Concept represents the fresh design direction and new technologies that will reinforce the Subaru brand into the future. Subaru Viziv or Subaru "Vision for Innovation" provide advanced efficiency and performance on all roads and driving situations.
Subaru Viziv Concept
The future-generation crossover concept features simple and clean surfaces and lines. The unsophisticated and compelling patterns of the sides create a new Subaru design component. The "Mistral Silver Metallic" exterior color details the dynamic, chic exterior design of the Subaru Viziv Concept.
Subaru Viziv
The interior design is a extremely refined environment with notable functionality, peace of mind and entertaining for all occupants. The tachometer and speedometer combine practicality and sportiness, featuring a specific cylindrical design and superior visibility.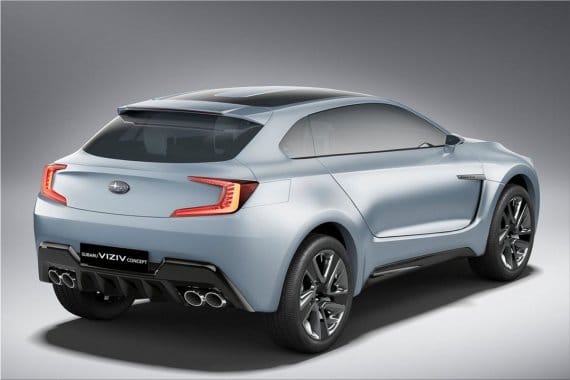 Subaru Viziv Concept
In the Subaru Viziv Concept was mounted Subaru Boxer Diesel Hybrid, a plug-in hybrid system that combines a 2.0-litre Subaru Boxer diesel engine with a front motor that supplies both vehicle drive and power generation. Subaru is always improve its unique AWD (All-Wheel drive) Systems according to the evolution philosophy "Four-wheel management".
Subaru Viziv
Technical Specifications for Subaru Viziv: Length: 4,320 mm / Width: 1,900 mm / Height: 1,510 mm / Wheelbase: 2,640 mm / Engine: 2.0-litre Horizontally-Opposed Subaru Boxer diesel engine / Transmission : Lineartronic (CVT) / Electric Motor : Interior Permanent magnet synchronous motor; Front: 1 motor; Rear: 2 motors / Battery : Lithium-ion batteries / AWD System: Independent-rear-motor-driven symmetrical AWD / Tires: 245/45 ZR20 / Seating Capacity: 4