The Toyota GR Supra is one of the most iconic sports cars of all time, with a history that spans over four decades and five generations. To celebrate the 45th anniversary of the Supra's debut in 1978, Toyota has created a special edition model that pays homage to its heritage and showcases its performance potential.
The Toyota GR Supra 45th Anniversary Edition is a limited-run model that will be available in select markets around the world, including the US, Japan, Europe, and Australia. Only 450 units will be produced globally, with 100 allocated for the US market. This exclusive model costs $63,000, which is $7,000 more than the base Toyota GR Supra 3.0.
What makes it special?
The Toyota GR Supra 45th Anniversary Edition is based on the GR Supra 3.0 Premium grade, which means it features a 3.0-liter turbocharged inline-six engine that delivers 382 horsepower and 368 pound-feet of torque. The engine is paired with an eight-speed automatic transmission that sends power to the rear wheels via an active differential. The sports car can sprint from 0 to 60 mph in 3.9 seconds and reach a top speed of 155 mph.
The special edition model also benefits from the updates that were introduced for the 2024 model, such as revised suspension tuning, improved steering feel, and enhanced stability control. It also comes with the Driver Assist Package as standard, adding adaptive cruise control, blind-spot monitoring, rear cross-traffic alert, parking sensors, and emergency braking.
However, what sets the Toyota GR Supra 45th Anniversary Edition apart from the regular GR Supra are its unique exterior and interior details that reflect its heritage and exclusivity. The sports car is painted in a stunning Phantom Matte Gray color, contrasting with the gloss black accents on the mirror caps, front splitter, side skirts, rear diffuser, and spoiler. The car also features 19-inch forged aluminum wheels with a matte black finish and red brake calipers.
Inside, the Toyota GR Supra 45th Anniversary Edition boasts black leather upholstery with blue stitching and carbon fiber trim. The seats are heated and power-adjustable and feature embossed Supra logos on the headrests. The dashboard also displays a special plaque indicating each car's serial number. The infotainment system features an 8.8-inch touchscreen with wireless Apple CarPlay and Android Auto compatibility, navigation, wireless charging, and a 12-speaker JBL sound system.
Why should you care?
The Toyota GR Supra 45th Anniversary Edition is more than just a cosmetic package. It is a tribute to a legend that has inspired generations of enthusiasts and racers. It is a rare opportunity to own a piece of history that combines classic styling cues with modern technology and performance. It is a collector's item that will surely appreciate in value over time.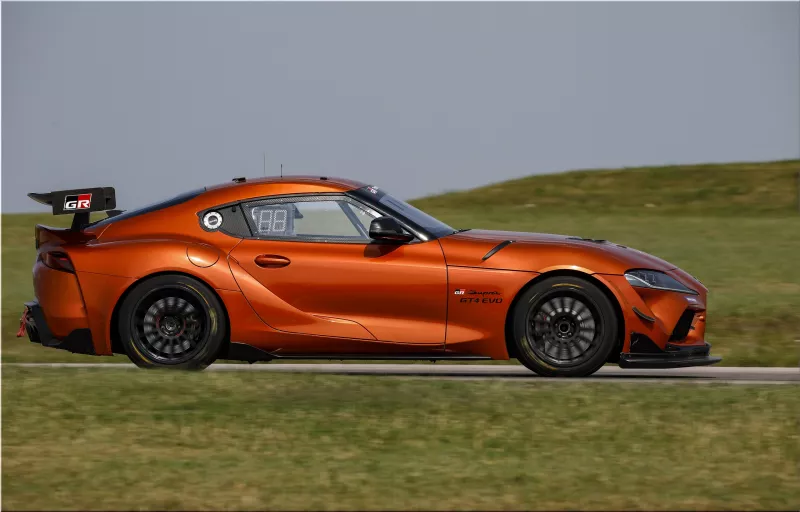 If you are a fan of the Toyota Supra or simply appreciate a well-crafted sports car, you should not miss this chance to get your hands on one of these beauties. However, you will have to act fast, as they are expected to sell out quickly. You can reserve yours online at Toyota's website or contact your local dealer for more information.
The Toyota GR Supra 45th Anniversary Edition is expected to arrive at dealerships in early 2024. Don't let this opportunity pass you by!