Volkswagen is on a mission to become the world's leading electric car maker, and one of its key strategies is optimizing its vehicles' aerodynamics. The Volkswagen ID.7, the upcoming flagship SUV of the ID family, promises to be an aerodynamic benchmark that will offer long-range and high efficiency.
Why Aerodynamics Matter for EVs
Aerodynamics is the science of how air flows around objects, affecting everything from fuel economy to performance to noise levels. Aerodynamics is especially important for electric vehicles because it directly impacts the battery range and charging time.
The less air resistance a car faces, the less energy it consumes to move forward. This means a more aerodynamic car can travel farther on a single charge or use a smaller, lighter battery pack for the same range. A more aerodynamic car also generates less wind noise, which improves comfort and acoustics.
According to Volkswagen, improving the drag coefficient (Cd) by 0.01 can increase the range of an electric car by up to 3 miles (5 km). The drag coefficient is a measure of how streamlined a vehicle is, with lower numbers indicating less drag. For comparison, the average Cd of a passenger car is around 0.3, while some of the most aerodynamic cars on the market have Cd values below 0.25.
How Volkswagen Achieved a Low Cd for the ID.7
The Volkswagen ID.7 is expected to have a Cd value of just 0.23, which is remarkable for a large SUV that can seat up to seven passengers. To achieve this low Cd, Volkswagen applied several sophisticated aerodynamic features to the ID.7, such as:
A smooth front end with a closed grille and slim LED headlights
A sloping roofline that merges into a large rear spoiler
A flat underbody with extensive cladding and air ducts
Active air flaps in the front bumper that open and close depending on cooling needs
Aerodynamically optimized wheels with low rolling resistance tires
A rear diffuser that reduces turbulence behind the vehicle
These features reduce drag and improve the lift balance and stability of the vehicle at high speeds. Volkswagen claims that the ID.7 has a lift coefficient (Cl) of zero, which means that it generates no lift or downforce. This is ideal for an SUV that needs to offer both comfort and handling.
What the ID.7 Means for Volkswagen and Its Customers
The Volkswagen ID.7 is set to debut in 2022 as the ID family's flagship model, including the Volkswagen ID.3 electric car, the Volkswagen ID.4 crossover SUV, and the retro-styled Volkswagen ID.Buzz van. The ID family is based on Volkswagen's MEB platform, which allows for various body styles, battery sizes, and powertrain configurations.
The Volkswagen ID.7 will likely compete with other premium electric SUVs such as the Tesla Model X, the Audi e-tron, and the Mercedes-Benz EQC. It will offer a spacious and luxurious interior with advanced technology features such as a head-up display, a digital cockpit, and an augmented reality navigation system.
The ID.7 will also boast impressive performance and range figures thanks to its aerodynamic design and efficient powertrain. According to Volkswagen, the ID.7 will have a maximum range of up to 435 miles (700 km) on the WLTP cycle, which is comparable to some gasoline-powered SUVs. It will also have a fast-charging capability that can replenish 186 miles (300 km) of range in just 18 minutes.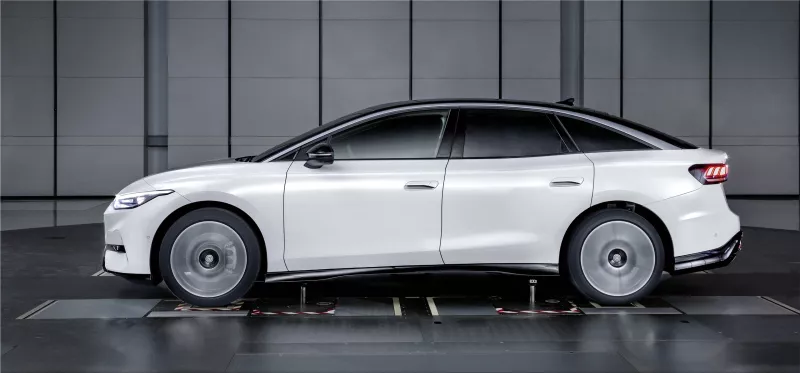 The Volkswagen ID.7 will be priced from around $60,000 (€50,000) in Europe, where it will be launched first before arriving in other markets such as North America and China. It will be produced at Volkswagen's Zwickau plant in Germany, which has been converted into a dedicated electric vehicle factory.
The ID.7 showcases Volkswagen's engineering prowess and is a testament to its commitment to electrification and sustainability. By making electric cars more aerodynamic, Volkswagen is making them more attractive and accessible to customers who want to reduce their environmental impact and enjoy the benefits of driving electric.