With its mixture of polished good looks, remarkable handling and its broad tally of included features and amenities, the Mitsubishi Lancer sport sedan is, dollar for dollar, easily one of the most tempting vehicles in its highly competitive category. But this good-looking and sophisticated compact sports sedan further sets itself apart from its competitors for the new model year thanks to new features that improve the vehicle's fuel-efficiency and performance.
Mitsubishi Lancer ES 2011All four versions of the Mitsubishi Lancer sports sedan return in 2011: The cheap and well-equipped Lancer DE, the feature-packed Lancer ES, the more powerful Lancer GTS and the very capable, hard-charging Lancer Ralliart that packs a turbocharged punch and excellent agility thanks to its advanced all-wheel drive system.
Mitsubishi Lancer ES 2011
New for the 2011 Mitsubishi Lancer: Improved Fuel-Efficiency, Electric Assist Power Steering (Lancer DE and ES models), FUSE HandsFree Link System™ (Lancer GTS and Ralliart; optional Lancer ES), USB Port (Lancer GTS and Ralliart; optional Lancer ES).
Mitsubishi Lancer engine
Setting the Lancer DE and ES variants in motion is an excellent 4-cylinder normally-aspirated engine that provides spirited performance (this 4B11 engine serves as the foundation of the legendary Mitsubishi Lancer Evolution ultra-high-performance sports sedan) and fuel efficiency. With a displacement of 2.0-liters (1998 cc), the bore and stroke of this engine measure an equal 3.4 x 3.4 in. (86.0 x 86.0 mm).
For those seeking more power there is the Lancer GTS model and its larger 2.4-liter 4-cylinder engine that produces an additional 20 bhp over the Lancer DE and ES models; its maximum power output is rated at 168 bhp at 6,000 rpm (161 horsepower for the PZEV-rated cars in California) and 167 lb.-ft. of torque (PZEV – 161 lb.-ft.).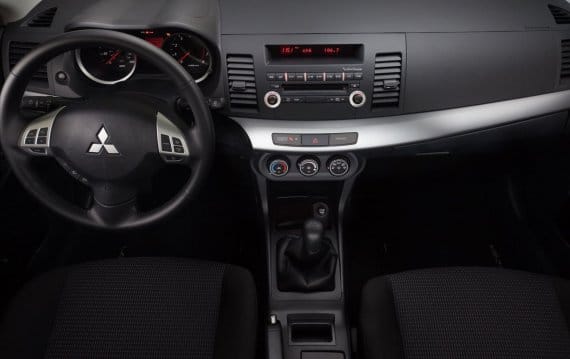 Mitsubishi Lancer interior
The remarkably well-engineered and structurally-rigid platform that reinforces both the Lancer and the Lancer Evolution can also be found in the similarly stylish and award-winning Outlander crossover utility vehicle and the all-new 2011 Mitsubishi Outlander Sport compact crossover utility vehicle.
Mitsubishi Lancer ES 2011
All 2011 Mitsubishi Lancer vehicles overflow with plenty of the latest in state-of-the-art safety technologies included as standard equipment. These include advanced dual-stage front air bags with occupant seat position sensors; side-impact head protection curtain air bags for the front and rear occupants; front seat-mounted side air bags; a driver's side knee air bag; anti-lock braking system (ABS) with Electronic Brake-force Distribution (EBD); Active Stability Control (ASC) and Traction Control Logic (TCL); an active front seat structure to help reduce whiplash injuries; a Tire Pressure Monitoring System (TPMS); and Mitsubishi's patented Reinforced Impact Safety Evolution (RISE). [source: Mitsubishi]
Click for comments