The Toyota FCV Concept was revealed for the first time at the 2013 Tokyo Motor Show. The Toyota FCV Concept is a working concept of the fuel cell vehicle. Toyota plans to launch the car around 2015 as a pioneer in the expansion of hydrogen-powered vehicles. The Toyota FCV has a range of at least 500 km and refuelling times as low as 3 minutes.
Toyota FCV Concept
The Toyota FCV Concept's exterior design states the key features of a fuel cell vehicle: the transformation of air into water as the system produces electricity; and the powerful acceleration delivered by the electric drive motor. The front end has noticeable air intakes, while an air-to-water theme is captured in the flowing liquid profile of the doors, a wave style on the filler cap and a rear-end treatment inspired by the stern of a catamaran.
Toyota FCV Concept
The Toyota FC stack has a 3kW/l power output density and a maximum power output of at least 100kW. It is also equipped with a high-efficiency boost converter. By raising the voltage, Toyota has been able to make the motor smaller and reduce the number of fuel cells, leading to a method that is more compact overall, yet brings increased performance at a bargain cost.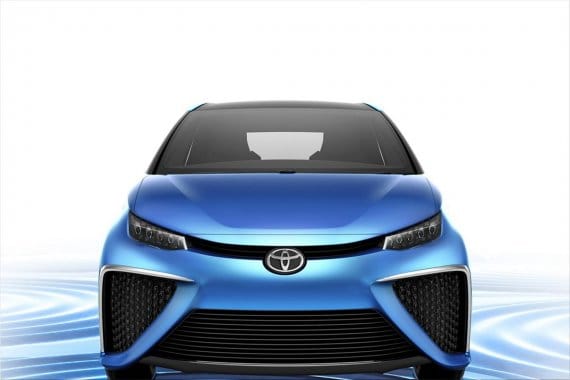 Toyota FCV Concept
The Toyota FCV measures 4,870mm long, 1,810mm wide and 1,535mm high. The wheelbase is 2,780mm.
Click for comments