If you're looking for a capable, reliable, and affordable SUV that can tackle any terrain and weather condition, you might want to take a look at the Dacia Duster Extreme. This is a special edition of the Duster, which is one of the best-selling models from the Romanian brand that is part of the Renault Group. The Duster Extreme offers a more adventurous and rugged style, along with some exclusive features and technologies that enhance its performance and comfort. I'll show you what makes this SUV so appealing and why it might be the ideal vehicle for your next outdoor escapade.
What is the Dacia Duster Extreme?
The Dacia Duster Extreme is a limited edition of the Duster, which is a compact SUV that has been in production since 2010. The Dacia Duster is known for its simple and robust design, its spacious and practical interior, and its low price tag. It's also one of the few SUVs in its segment that offers a four-wheel drive option, which makes it suitable for off-road driving.
The Dacia Duster Extreme builds on these strengths by adding some distinctive design elements and features that make it stand out from the crowd. It has a unique Oxide Green paintwork that contrasts with the black roof rails, door mirrors, skid plates, and wheel arches. It also has some topography-inspired graphics on the hood, sides, and tailgate that evoke a sense of adventure and exploration.
The interior of the Dacia Duster Extreme also reflects its off-road spirit. It has washable upholstery made of MicroCloud TEP material that is resistant to stains and water. It also has rubber mats and door sills that protect the floor from dirt and mud. The dashboard and steering wheel have green accents that match the exterior color.
What are the main features of the Dacia Duster Extreme?
The Dacia Duster Extreme is not only stylish but also functional and well-equipped. It has a range of features and technologies that make driving easier, safer, and more enjoyable. Here are some of the main ones:
Hill Descent Control: This is a system that helps the driver maintain a constant speed and control on steep downhill slopes. It automatically applies brake pressure to each wheel individually to prevent skidding or slipping. A button on the dashboard can activate it, and works in conjunction with the four-wheel drive system.
Multi-view Camera: This is a system that provides a 360-degree view of the surroundings of the vehicle on the touchscreen display. It uses four cameras located on the front, rear, and sides of the vehicle to create a bird's-eye view image. It helps with parking, maneuvering, and avoiding obstacles on or off-road.
Media Nav Evolution: This is an infotainment system that features an 8-inch touchscreen display that supports Apple CarPlay, Android Auto, Bluetooth, USB, and navigation. It also has voice recognition and steering wheel controls for easy operation. It can provide real-time traffic information, speed camera alerts, weather forecasts, and fuel prices.
Blind Spot Warning: This is a system that warns the driver if there is another vehicle in their blind spot area. It uses radar sensors located on the rear bumper to detect vehicles up to 3 meters behind or 3 meters to the side of the vehicle. It alerts the driver by flashing an indicator on the corresponding door mirror.
How does the Dacia Duster Extreme perform?
The Dacia Duster Extreme is powered by a 1.3-liter turbocharged four-cylinder engine that produces 130 horsepower and 240 Nm (177 lb-ft) of torque. It's paired with a six-speed manual transmission that sends power to either the front wheels or all four wheels, depending on the mode selected by the driver. It can accelerate from 0 to 100 km/h (62 mph) in 10 seconds and has a top speed of 190 km/h (118 mph).
The engine is also very efficient and eco-friendly. It has a combined fuel consumption of 6 liters per 100 km (39 mpg) and CO2 emissions of 137 g/km. It also meets the Euro 6d emission standards that have been mandatory in Europe since 2021.
The Dacia Duster Extreme also has a smooth and comfortable ride quality thanks to its suspension system that absorbs bumps and vibrations. It also has electric power steering that provides precise and responsive handling.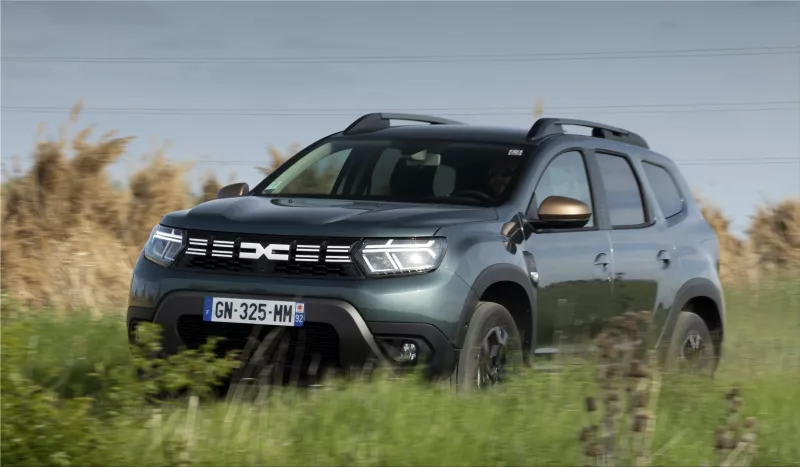 How much does the Dacia Duster Extreme cost?
The Dacia Duster Extreme is expected to have a starting price of around €18,000 ($20,000) in Europe. This makes it one of the most affordable SUVs on the market, especially considering its features and performance.
The Dacia Duster Extreme is a great value for money and a vehicle for off-road enthusiasts who want to explore new places and enjoy nature. It combines the simplicity and reliability of a Dacia with the versatility and style of an SUV. It's a car that can do it all without breaking the bank.
If you're interested in getting your hands on one of these limited edition models, you might want to hurry up because they are only available until July 2023.