Ford Explorer – the vehicle that defined a segment – has been completely reinvented, raising customers' expectations of sport utility vehicle (SUV) fuel efficiency, safety, technology, capability and quality.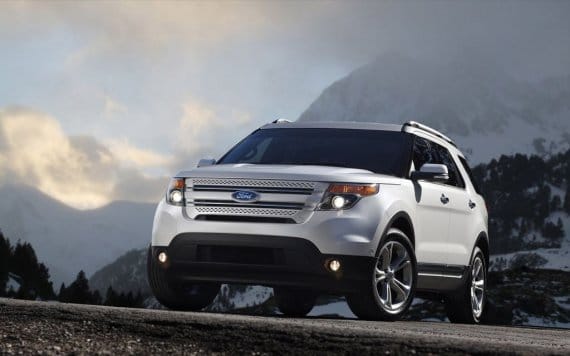 "The all-new Explorer will deliver today's SUV buyers the attributes they want and value, and a few they might not even have dreamed of," said Mark Fields, Ford president of The Americas. "We're proud to introduce the new Explorer to customers and fans worldwide today and pleased to begin a whole new era that blends strong SUV fuel economy and performance."
The all-new Explorer launches today to its Facebook friends in a unique social media initiative, followed by reveal events throughout the U.S. and Canada.
Shattering SUV fuel economy and performance expectations
"The new Explorer simply does everything well," said Derrick Kuzak, group vice president, Global Product Development. "It raises the bar for ride and handling on the road and transforms the off-road experience. It's the hands-down winner for towing capability and ease. All this capability – and three rows of seating – with amazing fuel economy will make Explorer the absolute right choice for families with a sense of adventure."
The 2011 Explorer with V6 power is expected to deliver more than 20 percent better fuel economy than the 2010 model, shattering conventional expectations for SUV fuel efficiency. When equipped with the available 2.0-liter EcoBoost™ I-4 engine, Explorer fuel economy is expected to improve by more than 30 percent and exceed the 2010 Honda Pilot and 2010 Toyota Highlander V6.
Chief Nameplate Engineer Jim Holland said the team targeted two key objectives when developing the 2011 Ford Explorer.
"It had to look modern and contemporary – inside and out – yet be instantly recognizable as an Explorer," said Holland. "Next, the new Explorer needed to deliver the fuel economy today's customers want, combined with the performance, capability, and empowerment they expect from an SUV."
Weight reduction is a key element in improving Explorer fuel efficiency. While adding significant content to the vehicle, engineers were able to reduce total vehicle weight by almost 100 pounds by using lighter materials such as an aluminum hood. Explorer weight loss is even more impressive, as the latest versions of Honda Pilot and Toyota 4Runner have added pounds versus previous models.
Explorer's advanced 2.0-liter EcoBoost I-4 delivers the power of a normally aspirated V6 without compromising four-cylinder fuel economy. Aimed at the SUV buyer whose top priority is fuel economy, this turbocharged and intercooled I-4 engine delivers a projected 237 horsepower at 5,500 rpm and 250 lb.-ft. of torque from 1,700 through 4,000 rpm. The EcoBoost employs direct gasoline injection, Ti-VCT, direct-acting mechanical bucket (DAMB) valve lifters and four valves per cylinder.
Explorer's standard powertrain combines front-wheel drive with a 3.5-liter Ti-VCT V6 engine, delivering an estimated 290 horsepower and 255 lb.-ft. of torque. Ti-VCT allows individually optimized camshaft timing of valve opening and closing events to improve mechanical efficiency while delivering increased power and reducing part-throttle emissions. Mated to a six-speed automatic transmission, this powerful, flexible and efficient V6 is projected to deliver more than 20 percent better fuel economy versus the previous Explorer V6 model.
Explorer's variable-displacement air-conditioning compressor provides a fuel economy benefit with less drag and smoother transition for improved driveability.
Each Explorer engine is paired with a unique six-speed automatic transmission, combining lowered initial gears for improved off-the-line acceleration and higher gearing for improved efficiency at lower engine rpm when cruising.
Explorer V6 models have an intelligent 4WD system that adds terrain management. Situation-selectable, this powertrain advancement takes the guesswork out of 4WD range choice.
A driver need only turn the console-mounted knob to the proper setting among snow, sand, mud and normal modes. This system also includes a hill descent mode.
Simpler and more convenient for SUV veterans, the system will be a confidence-builder for drivers new to the segment.
The all-new Explorer targets top safety ratings with a stiff unibody structure and a class-leading suite of active and passive safety features and technologies, plus another Ford safety innovation – the world's first second-row inflatable rear belts.
Rear seat passengers – often children or mature passengers – can be more vulnerable to head, chest and neck injuries. Ford's unique inflatable rear belts spread impact forces across more than five times the area than conventional seat belts, reducing pressure on the chest while helping to control head and neck motion. Belt comfort should also help increase usage rates. Studies show inflatable belts to be more comfortable for passengers due to padding.
Explorer's rigid body structure is designed to provide robust protection for occupants from the boron front bumper beam through the hydroformed front frame rails and high-strength steel side-impact tubes. In the instance of a crash, these elements come together to protect the Explorer driver and passengers inside a safety cage of strength.