The Volkswagen T-Cross is one of the most successful compact SUVs in the world, with more than 300,000 units sold since its launch in 2018. It combines practicality, versatility, and style in a package that appeals to urban drivers and families alike. For 2024, Volkswagen has revealed a major update for the Volkswagen T-Cross that makes it even more attractive, efficient, and connected.
The 2024 Volkswagen T-Cross features a refreshed design, with a more dynamic front end, new LED headlights and taillights, and a range of new colors and wheels. The interior has also been upgraded with a new digital cockpit, a larger touchscreen infotainment system, and more comfort and convenience features. The T-Cross also offers more space than ever before, thanks to a sliding rear bench that can increase the luggage capacity from 385 to 455 liters.
But the biggest changes are under the hood. The 2024 Volkswagen T-Cross is powered by a new generation of more efficient and eco-friendly engines. The T-Cross is available with three petrol engines (TSI) and one diesel engine (TDI), all of which comply with the latest Euro 6d emissions standards. The petrol engines range from 95 to 150 horsepower, while the diesel engine delivers 95 horsepower. All engines are equipped with a start-stop system and a regenerative braking system that recovers energy during deceleration.
The most innovative engine option is the new eTSI technology, which stands for electrified TSI. This mild hybrid system uses a 48-volt belt-driven starter-generator (BSG) and a small battery to provide electric boost and coasting functions. The eTSI system reduces fuel consumption and CO2 emissions by up to 10 percent compared to a conventional petrol engine. The eTSI technology is available for the 110 and 150-horsepower versions of the T-Cross, both of which come with a seven-speed dual-clutch transmission (DSG).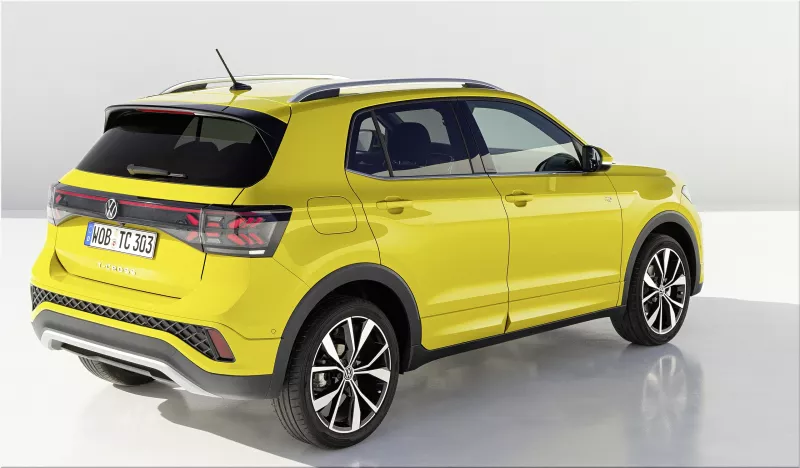 The 2024 Volkswagen T-Cross also boasts a high level of connectivity and digitalization, thanks to the new MIB3 infotainment system. The MIB3 system features a larger touchscreen display (up to 9.2 inches), wireless Apple CarPlay and Android Auto integration, online navigation, natural voice control, and access to various online services and apps via the We Connect platform. The T-Cross also offers wireless smartphone charging, four USB-C ports, and an optional Beats sound system with eight speakers.
Another highlight of the new T-Cross is its comprehensive range of safety and assistance systems, which make driving easier and safer in various situations. The T-Cross comes standard with Front Assist (a forward collision warning system with autonomous emergency braking), Lane Assist (a lane-keeping system), Blind Spot Monitor (a blind spot warning system), Rear Traffic Alert (a cross-traffic warning system), Adaptive Cruise Control (a cruise control system that maintains a set distance from the vehicle ahead), Park Assist (a parking assistance system), Driver Alert System (a driver fatigue detection system), and Emergency Call Service (a service that automatically calls for help in case of an accident).
The new 2024 Volkswagen T-Cross will be available in four trim levels: T-Cross, Life, Style, and R-Line. Each trim level offers different equipment and customization options, such as leather seats, ambient lighting, panoramic sunroof, sport suspension, roof rails, and various exterior packages. The prices for the new T-Cross will start from around $23,000 USD in Europe.
The new T-Cross is expected to hit the market in early 2024, following its official debut at the Paris Motor Show in October 2023. It will compete with other compact SUVs such as the Ford Puma, the Hyundai Kona, the Nissan Juke, and the Renault Captur. The T-Cross is part of Volkswagen's strategy to expand its SUV portfolio, which also includes the larger Volkswagen Tiguan, Touareg, Atlas, ID.4, and Taos models.
The 2024 Volkswagen T-Cross is a compact SUV that offers a lot of value for money. It is spacious, versatile, stylish, efficient, connected, and safe. It is designed for drivers who want a car that can handle urban and rural environments without compromising comfort or performance. It is also a car that looks to the future with its electrified and digitalized features. The T-Cross is a car that deserves your attention.