Mercedes-Benz has made history by offering its Drive Pilot system, the world's first certified SAE Level 3 automated driving system. The system will be available on select models of the S-Class and Mercedes-Benz EQS and will allow drivers to take their hands off the wheel and eyes off the road in certain traffic situations while the car takes over the driving tasks.
What is SAE Level 3?
The Society of Automotive Engineers (SAE) is an international organization that defines the standards and levels of driving automation for motor vehicles. According to the SAE, there are six levels of driving automation, ranging from Level 0 (no automation) to Level 5 (full automation). Level 3, also known as conditional driving automation, is defined as:
The sustained and ODD-specific performance by an ADS of the entire DDT under routine/normal operation with the expectation that the DDT fallback-ready user is receptive to ADS-issued requests to intervene, as well as to DDT performance-relevant system failures in other vehicle systems and will respond appropriately.
In simpler terms, this means that the Automated Driving System (ADS) can handle all the driving functions within a limited domain of operability (e.g., certain road types, speeds, weather conditions, or within a prescribed geographic area), but the driver must always be ready to take over if the system requires assistance or stops working effectively.
How does Drive Pilot work?
Drive Pilot is based on the existing Driver Assistance Package that Mercedes-Benz offers on its vehicles, which includes features such as Distronic adaptive cruise control, Active Steering Assist, Active Lane Change Assist, and Active Emergency Stop Assist. However, Drive Pilot goes beyond these Level 2 features by enabling the driver to delegate the driving responsibility to the system under specific conditions.
Drive Pilot can only be activated on highways that have been mapped using high-definition, centimeter-accurate GPS and that have clear lane markings. The system also requires a lead vehicle in the same lane and will not exceed 40 mph. Drive Pilot will not work at night, in tunnels, or in adverse weather conditions. The system is currently only authorized and available in California and Nevada, where Mercedes-Benz has conducted extensive testing and validation.
When the Drive Pilot is engaged, the driver can relax and enjoy the ride without having to keep their hands on the wheel or their eyes on the road. The system monitors the traffic situation and the vehicle surroundings using a combination of cameras, radar, lidar, and ultrasonic sensors. The system also communicates with the cloud and other vehicles via Car-to-X technology, which provides real-time information and warnings about traffic jams, accidents, road works, or hazards.
The driver can use the time freed up by Drive Pilot to access various entertainment and information options on the car's Hyperscreen infotainment system, such as watching videos, playing games, browsing the internet, or reading books. The system also offers remote support functionality, such as Remote Parking Assist and Remote Retrieval Assist, which allow the driver to park or summon the car using a smartphone app.
However, the driver must always remain alert and ready to resume vehicle control if the system requests to intervene. This can happen if the system detects a situation that exceeds its capabilities, such as a lane closure, a police stop, or a system failure. The system will alert the driver using visual, auditory, and haptic signals and will give the driver a reasonable amount of time to respond. If the driver fails to respond, the system will initiate an emergency maneuver, such as slowing down, activating the hazard lights, and moving to the shoulder or the nearest safe spot.
What are the benefits and challenges of Drive Pilot?
Mercedes-Benz Drive Pilot is a major milestone in the development of automated driving technology and offers several benefits for drivers and society. Drive Pilot can reduce driver stress and fatigue, increase comfort and convenience, improve safety and efficiency, and enhance mobility and productivity. Drive Pilot can also reduce emissions and fuel consumption, as the system optimizes the speed and acceleration of the vehicle.
However, Drive Pilot also faces some challenges and limitations, such as legal, ethical, and technical issues. Drive Pilot is not yet approved in all states or countries, and the regulatory framework varies by jurisdiction. Drive Pilot is also not a fully autonomous system and still requires the driver to be attentive and ready to intervene when needed. Drive Pilot is also dependent on the accuracy and availability of high-definition maps, GPS signals, and Car-to-X communication. The operational design domain also restricts Drive Pilot and cannot handle all driving scenarios or conditions.
How much does Drive Pilot cost, and when will it be available?
Drive Pilot will be offered as a subscription service through the U.S. Mercedes me connect store for S-Class and EQS Sedan models. The starting price is $2,500 for the first year, and further pricing and options will be available at a later date. Drive Pilot will make its on-road debut in California and Nevada in late 2023 with a limited fleet of Level 3 equipped Mercedes-Benz EQS Sedans. Mercedes-Benz plans for further customer deliveries of Drive Pilot equipped Mercedes-Benz EQS Sedan and S-Class models in early 2024 through participating authorized Mercedes-Benz dealers in California and Nevada. Mercedes-Benz intends to further expand the availability of this revolutionary new technology to additional U.S. markets in the future.
How does Drive Pilot compare to other automated driving systems?
Drive Pilot is the first and only system with internationally valid type approval for conditionally automated driving. It is engineered with a sophisticated system architecture based on redundancy with many different sensor types. Mercedes-Benz claims that Drive Pilot is safer, smoother, and more reliable than any other Level 2 or Level 3 system on the market.
Mercedes-Benz Drive Pilot is similar to "hands-free" highway driving systems like GM's Super Cruise, Ford's BlueCruise, and Tesla's Autopilot in so far as it allows drivers to take their hands off the steering wheel under certain conditions. However, Drive Pilot goes further by allowing the driver to also take their eyes off the road and engage in other activities while the car assumes full legal liability. Drive Pilot also has more redundancies and uses additional power supplies for critical systems. It also uses higher-quality image processing and lidar scanners and collates positioning data from GPS, Galileo, and GLONASS satellites for guidance.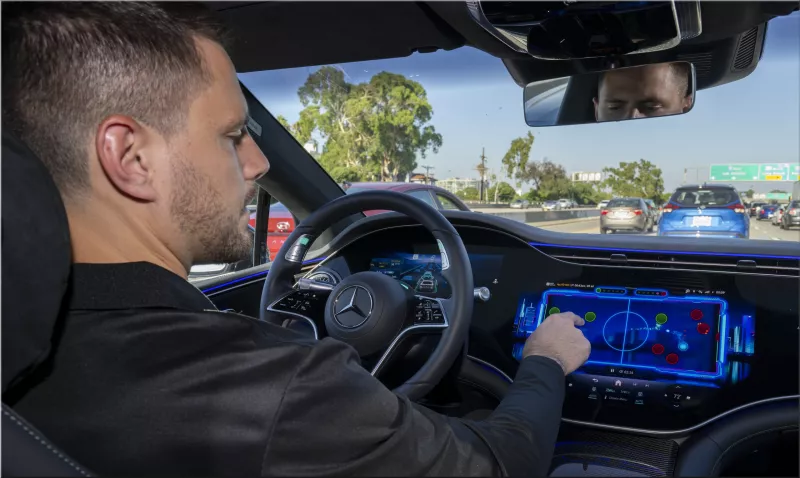 Drive Pilot is not yet a fully self-driving car that can take you from point A to point B. It can only be used on restricted highways/freeways that have been high-definition mapped. It can only operate at speeds up to 40 mph, meaning traffic. It will not work at night or, in tunnels, or if it rains or snows. It can also only be operated (and purchased) in Las Vegas and the major metropolitan areas of California. Mercedes-Benz hopes to increase the speed limiter, expand the operational design domain in the future, and offer Drive Pilot in more states and countries.
Conclusion
Drive Pilot is a groundbreaking innovation that brings us closer to the vision of fully automated driving. It is a technological game changer and a huge leap forward in pursuing conditionally automated driving. It is a system that reinforces Mercedes-Benz's intention to lead in safety and technology while giving precious time back to its customers during heavy traffic situations. Drive Pilot is a system that showcases the future of mobility and the future of Mercedes-Benz.