If you are looking for a plug-in hybrid that offers the best of both worlds - electric driving and extended range - you should check out the Mazda MX-30 R-EV. This innovative crossover combines a battery-electric powertrain with a range-extending rotary engine that can generate electricity when needed. The result is a versatile, efficient, and fun-to-drive vehicle that has earned a five-star rating from Euro NCAP for its safety features and technologies.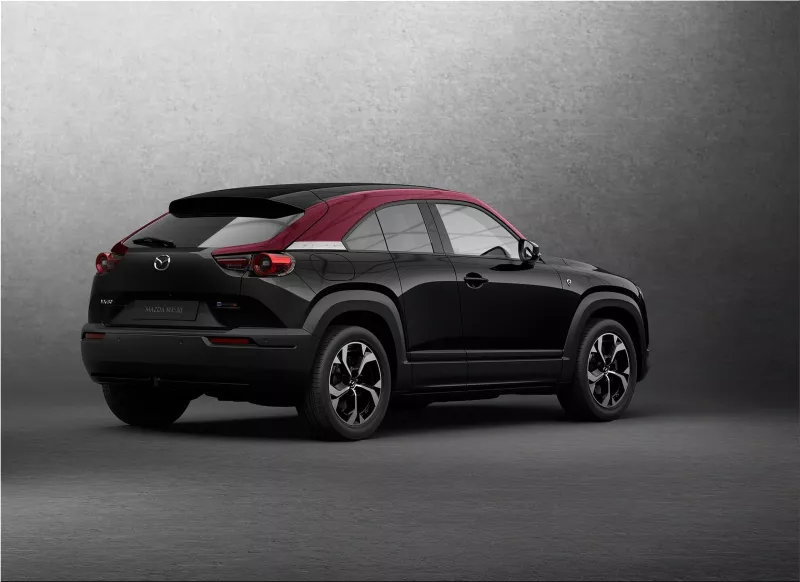 The Mazda MX-30 R-EV is based on the Mazda MX-30, the brand's first dedicated electric vehicle that debuted in 2020. The MX-30 has a distinctive design that blends SUV practicality with coupe-like elegance, featuring a freestyle door system that allows easy access to the spacious and comfortable cabin. The interior is also eco-friendly, using recycled materials and cork accents to create a warm and inviting atmosphere.
The main difference between the Mazda MX-30 and the Mazda MX-30 R-EV is under the hood. While the MX-30 has a 35.5 kWh battery pack that provides a range of 124 miles (WLTP combined cycle), the Mazda MX-30 R-EV has a smaller 17.8 kWh battery pack that can deliver up to 53 miles of pure electric driving. However, the MX-30 R-EV also has a secret weapon: a compact Wankel engine of 830 cc that can act as a generator when the battery charge is low.
The Wankel engine is a unique type of internal combustion engine that uses a triangular rotor instead of pistons to create power. It has several advantages over conventional engines, such as being smaller, lighter, smoother, and more reliable. Mazda has a long history of using rotary engines in its sports cars, such as the Mazda RX-7 and the Mazda RX-8, and even won the 1991 Le Mans 24 Hours race with a rotary-powered prototype.
The Mazda MX-30 R-EV is the first plug-in hybrid to use a rotary engine as a range extender, which means that it does not drive the wheels directly but only produces electricity for the electric motor. This way, the driver can enjoy the smooth and responsive performance of an electric vehicle at all times while having the peace of mind of having extra range when needed. The Mazda MX-30 R-EV can travel more than 370 miles on a single tank of fuel (WLTP combined cycle), making it ideal for long-distance trips or adventurous journeys.
The Mazda MX-30 R-EV also offers impressive performance figures, thanks to its dual-motor system that delivers a combined output of 170 hp and 271 lb-ft of torque. The MX-30 R-EV can accelerate from 0 to 62 mph in 9.1 seconds and reach a top speed of 99 mph. It also has three driving modes to suit different preferences and situations: Normal, EV, and Charge. Normal mode uses electric power as much as possible but switches on the engine when more power is required. EV mode stays in electric mode until the battery is depleted. Charge mode uses the engine to charge the battery up to a certain level.
The Mazda MX-30 R-EV is not only fast and efficient but also smart and safe. It comes with a wide range of advanced features and technologies that enhance the driving experience and protect the occupants and other road users. For example, it has a Vehicle-to-Load (V2L) function that allows it to supply up to 1.5 kW of power to external devices, such as laptops, camping equipment, or even other electric vehicles. It also has a smart regenerative braking system that can be controlled by paddle shifters behind the steering wheel, allowing the driver to adjust the level of energy recovery and braking force.
The Mazda MX-30 R-EV also boasts an array of active and passive safety systems, which Mazda calls i-Activesense. These systems help the driver identify and avoid potential risks, reducing the likelihood of damage or injury. Some of these systems include adaptive cruise control with stop-and-go function, lane-keep assist with lane departure warning, blind spot monitoring with rear cross-traffic alert, forward collision warning with automatic emergency braking and pedestrian detection, traffic sign recognition, driver attention alert, rear parking sensors with a rearview camera, and more.
The Mazda MX-30 R-EV also meets high pedestrian protection standards, which help mitigate the effects of a possible collision with unprotected road users. The car has a pop-up hood system that raises the hood in the event of an impact, creating a buffer zone between the hood and the engine. The car also has an active sound system that emits a warning sound when driving at low speeds or in reverse, alerting pedestrians of the car's presence.
The Mazda MX-30 R-EV is a plug-in hybrid SUV that has earned a five-star rating from Euro NCAP for its safety features and technologies. The Mazda MX-30 R-EV is available to order now, with prices starting from $38,815. Those who are interested in experiencing this amazing car for themselves can visit their nearest Mazda dealer or go online to reserve their spot. The Mazda MX-30 R-EV is not just a car, it's a lifestyle choice for adventurous drivers.